Chinatown, Restaurant Row club changes coming
THE SOFT opening of
Senor Frog's
this month and the closure of the
Esprit Lounge
on Aug. 5 after 23 years are the latest signs of change in Clubland.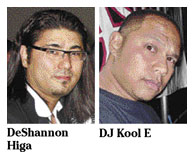 While Waikiki nightlife reaps the rewards of redevelopment, other neighborhoods will see new concepts emerge in the next two to four months.
As first reported in my blog, Chinatown will welcome the addition of another nightclub on Hotel Street, while Restaurant Row should see one club close and another one open around the corner before the end of 2007.
Loft Hawaii is scheduled to open at the beginning of October in the former Wo Fat space on the corner of Hotel and Maunakea, according to owner Titan Burns and general manager Daniel Gray. The two managed Sound|House until its closure last month, then got right to work on the demolition and reconstruction of their new venue across the street from HPD's Chinatown substation.
At Restaurant Row, the Ocean Club will close after Labor Day weekend for approximately six months of renovations (no word if it will reopen under the same name, or if owner Gene Gunn will still be involved when it does). But they'll go out with a bang, hosting DJs Toma and Warren Peace on Sept. 1 before a "Summer Soulstice" party with Mac Dame and DJ Pat Allen on Sept. 2.
Just around the corner from Oceans, another local nightclub owner is in negotiations to lease the former Jose's space. If everything proceeds according to plan, expect to see some action there by New Year's Eve ...
ANOTHER LOCAL promoter is making the jump from Oahu to Kauai.
Ramyt Islam kicks off "5520: An Exclusive Engagement" this weekend at the Princeville Resort, following in the footsteps of Flash Hansen and Matty Hazelgrove's "Release" weekly at the Sheraton Kauai Resort.
DeShannon Higa with gr00ve.imProV.arTiSts and Quadraphonix are the featured guests on Friday and Saturday, respectively, followed by DJs Lisa Shaw and JASK on Aug. 24. Higa will return on Aug. 25 and Sept. 1, with Quadraphonix going back for another visit on Aug. 31.
Expect an early night at this ultralounge-themed event -- doors open at 8 p.m. for the 21-and-over crowd, with last call at midnight. Cover is $40; call (808) 826-9644 for more information and room reservations ...
ROCK FANS have two big reasons to visit Anna Bannana's this weekend.
On Friday, the Hell Caminos will headline a show to raise funds for the production of their next album. They'll be joined by Upstanding Youth, Temporary Lovers and Golfcart Rebellion.
The following night, local band Haole Rot will play their last gig in Hawaii before heading for the mainland. Corrupt Absolute (the band formerly known as 8MM Overdose) will join Green Eyes and B.M.F. to send them off in style ...
SATURDAY'S PICKS: Check out the new Omni Lacer hats during an official launch party at Fashion 45. DJ Kool E will keep the party moving until 4 a.m. ... Cherry Blossom Cabaret will hold auditions during their monthly "Speakeasy" party at the Mercury Bar. Doors open at 9 p.m. for the 21-and-over crowd ... Pipeline Cafe will host the fourth annual "Da Hui Surf Bash" from 4 to 10 p.m. with live entertainment by the Ka'ala Boys, B.E.T. and Typical Hawaiians. That will be followed at 10 p.m. by the 18-and-over "Red Stripe Rasta Rager" with Beach 5, Light Um Up and Natural Soul ...