Cyanotech loss widens to $7.4M in fiscal year
The Kona-based firm's loss was wider than it forecasted in June
Cyanotech Corp., which has encountered several delays in reporting earnings results over the past year due to an internal accounting probe, said yesterday its loss in fiscal year 2007 widened to $7.4 million from a loss of $391,000 a year ago, according to a filing yesterday with the Securities and Exchange Commission.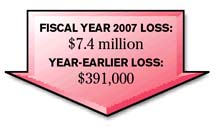 The loss was much wider than the Kona-based company reported earlier this year in another filing when it said its loss for fiscal year 2007 would be at least $2.9 million.
Its loss per share was $1.42 compared with a loss of 7 cents in fiscal 2006.
Revenue fell 13 percent to $9.7 million from $11.1 million, as the company had previously indicated.
Cyanotech, which produces nutritional products from microalgae, said costs incurred for restatement of prior year's annual reports dating back to 2005, and work associated with its threatened Nasdaq delisting, resulted in increases in its audit, attorneys, accountants and other financial fees totaling $709,000.
Cyanotech said earlier this week it would release its fiscal 2008 first-quarter earnings shortly after its fiscal 2007 full-year earnings came out.
The company, which didn't break out its fiscal fourth-quarter numbers in yesterday's filing, said it experienced a year-over-year reduction of NatuRose sales to the global aquaculture market due to decreased production of astaxanthin. NatuRose is a source of natural astaxanthin for use in animal feeds.
Cyanotech said in the filing that it focused its production on its higher value and higher margin BioAstin products, which are a natural source of astaxanthin that have been shown to be a potent antioxidant, as well as having anti-inflammatory properties.
The company also produces Spirulina, a whole microalgae rich in many nutrients, including antioxidants such as beta-carotene.