COLLEGE VOLLEYBALL
PWC kicks off Hogue era with media day
Peters, 2 others aren't back for Seasiders this volleyball season
STORY SUMMARY »
As far as Bob Hogue is concerned, his tenure as Pacific West Conference commissioner is off to a grand start.
Short Sets
Predicted order of finish as selected by the coaches:

1. Brigham Young-Hawaii (6)
2. Chaminade (1)
3. Grand Canyon
4. Hawaii Pacific
5. Dixie State
6. Hawaii-Hilo
7. Notre Dame de Namur

First-place votes in parenthesis
Hogue hosted the conference's first-ever volleyball media day yesterday at Chaminade's Eiben Hall. All four coaches of Hawaii's members in the conference -- Brigham Young-Hawaii, Chaminade, University of Hawaii-Hilo, and Hawaii Pacific -- were present, along with coaches from Grand Canyon University (Az.), Dixie State (Utah), and Notre Dame de Namur (Calif.) via conference call.
"It's been really, really exciting," said Hogue, a former state senator and broadcaster. "All here in the same room together, to show the importance of volleyball in our conference. I think it went really, really well, especially for an inaugural event. To hear from the coaches and from the student-athletes, I thought that was terrific."
Hogue unveiled the predicted order of finish for the seven teams this season (No. 19 Brigham Young-Hawaii was picked to win) as well as the preseason all-conference team.
STAR-BULLETIN
---
FULL STORY »
Brigham Young-Hawaii's bid for another undefeated run through the Pacific West Conference just became a whole lot tougher.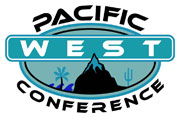 At the first-ever PacWest volleyball media day at Chaminade yesterday, new commissioner Bob Hogue introduced the coaches of each team -- including those of the PacWest's non-Hawaii schools via teleconference -- and asked each what their teams were shaping up like for the coming year.
The Seasiders' Wilfred Navalta, the first of the row of coaches to speak, took the microphone and somberly announced that he expected a wide-open league, in part because, "Three players we were expecting back, for a variety of reasons, are not coming back."
Although he would not say who initially, when asked later Navalta said that the three are Tuli Peters, the team's star, as well as right-side hitter Christina Bobik and hitter/blocker/libero Roseanne Vea.
Peters, who averaged 5.56 kills and 3.89 digs per game in the Seasiders' 20-1 overall season (15-0 PacWest), would have been a senior, and left for "personal reasons," Navalta said.
When asked about the high expectations for his team -- BYUH is ranked No. 19 in the preseason CSTV/AVCA Division II poll and was picked by the PacWest coaches to win the conference again -- Navalta brushed them off. The 21-year coach has guided his team to 10 national titles, but doesn't see this one as being able to contend for anything, at least initially.
"I think we're overrated," Navalta said. "Most of the coaches don't know the personnel of the team ... we have an entirely new team."
Seasiders assistant athletic director Scott Lowe said that Peters was able to complete her degree, and was "playing through a lot of pain last year."
Vea left on a mission to Lisbon, Portugal, and Bobik also left for personal reasons. Both would have been juniors.
The team has tried to plug the holes, but "three or four" highly-regarded recruits fell through because they didn't meet NCAA requirements.
They would have been hard-pressed to match the 5-foot-9 Peters' contributions, even had they been eligible.
"Oh yeah, she's a big loss, definitely," Navalta said. "She was maybe, 30, 40 percent of our offense. We're scrambling right now, we're scrambling."
That means five freshmen are now on the roster (which hasn't been officially updated yet). On the bright side, setter LeeAnn Mapu was picked as the preseason Player of the Year, and Noelle Filimoeatu and Faylynn Merrick were also selected to the preseason all-conference team, for the most representation of the seven schools.
Chaminade, picked to finish second in the PacWest (with one first-place vote) brought its three seniors to the event.
"It's going to be exciting, because I hear everyone has a lot of freshmen coming in, and can't wait to see what everybody brings on the court," said Chaminade preseason all-conference pick Evelyn Bluthenthal.
Navalta can't wait to see, either.