| | |
| --- | --- |
| | Newswatch |
---
'Light' earthquake jolts Big Isle
HILO » A magnitude-4.4 earthquake centered seven miles southeast of Kilauea caldera jolted the Big Island at 2:23 a.m. yesterday but caused no damage, officials said.
Described as "light" by the Hawaiian Volcano Observatory, the quake was felt islandwide, the observatory said.
The location was about 10 miles west of the site of a magnitude-5.4 quake on Monday night. The depth was 6 miles, about the same as the Monday quake.
The location and depth mean that both quakes are on the southwest flank of Kilauea, a long swath of seaward land that is slowly creeping downhill as geologic processes continue.
In the past 25 years, 10 earthquakes with a magnitude of 4 or greater have taken place in the area of yesterday's quake, the observatory said.
This history of quakes in the area has been associated with magma moving into the east rift zone upslope or with eruptions there, the observatory said.
But yesterday's quake did not cause any apparent changes in the ongoing eruption just outside Hawaii Volcanoes National Park east of Puu Oo crater.
---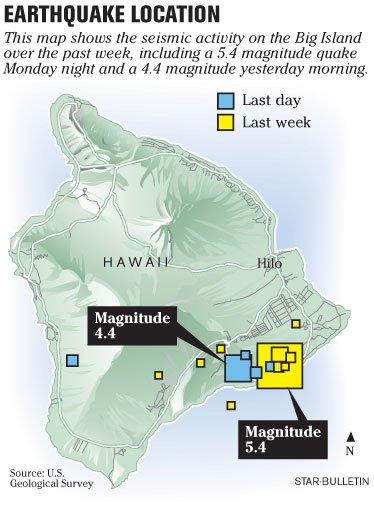 ---
Nimitz lanes close for sign work
The state Department of Transportation advises motorists to watch out for one- to two-lane closures on Nimitz Highway in both directions from Fort to River streets 8 p.m. today through 5 a.m. tomorrow.
Crews are installing overhead street signs.
Officials ask drivers to use caution when driving through the area and to allow for extra travel time.
$50,000 to boost food safety
The Hawaii Department of Agriculture has been awarded a $50,000 grant from the U.S. Department of Agriculture to help fund a food safety program that involves the use of radio frequency identification tracking.
The pilot program involves industry partners, including Sugarland Farms, Hamakua Springs, Kula Country Farms, Armstrong Produce, Foodland and computer and produce packaging companies. The RFID program aims to develop a simple food traceability system that can be expanded later for use by the state's 5,000 farms.
It will involve tagging a box or pallet of produce with a passive transmitter that can be traced as it moves through the food-supply chain. The product identity, time and the RFID read location will automatically be entered into the computer, and farmers can also use the RFID system to log when the crop was planted, harvested and what pesticides were used. The technology can also be able to track temperature and humidity information to determine if the food products are transported and stored under appropriate conditions.
Once the information is entered into the online database, any reader can use it to validate the source of the product. The pilot program is expected to begin in September and will cost nearly $1.6 million over three years.
| | |
| --- | --- |
| | Police, Fire, Courts |
---
Caregiver held in alleged theft
The caregiver of a 99-year-old man was charged with forgery and unauthorized possession of confidential information yesterday after she allegedly stole a check from the purse of the man's wife.
Authorities said that Sunny Joy Mariano, 39, allegedly went to a Kahala bank on May 4 and deposited a check she allegedly stole from the 86-year-old wife's purse and forged the woman's signature.
Police arrested Mariano at 7:25 a.m. Tuesday at her Kalihi Valley home. She was charged with second-degree forgery and two counts of unauthorized possession of confidential personal information.
Mariano was being held last night at the main police station jail on $20,000 bail.
HONOLULU
Suspect sought since May is held
Police have arrested a 23-year-old man whom they had been looking for since May in connection with an assault case.
Police said that at 12:43 a.m. May 19, the suspect was fighting with someone else outside a restaurant when a 21-year-old woman intervened.
The suspect hit the woman in the face, breaking her jaw, police said.
Police arrested the suspect at about 2:20 p.m. Tuesday in Leeward Oahu after he was positively identified.
He was arrested for investigation of second-degree assault.
WAIKIKI
Theft suspect seen on tape
Police arrested a 36-year-old man who allegedly stole a mo-ped from a rental agency in Waikiki earlier this month.
Police said a security camera at the agency recorded images of the suspect taking the mo-ped at about 1:20 a.m. Aug. 4.
The mo-ped was valued at about $1,000.
The suspect was identified in a photographic lineup and arrested at about 5 p.m. Tuesday for investigation of second-degree theft.
He was later released pending investigation.
LEEWARD OAHU
Man is charged with sex assault
Police charged a 22-year-old man who allegedly sexually assaulted a 14-year-old girl in Aiea over 2 1/2 years.
Police said that the girl reported the assaults last Thursday.
Police arrested Fermin Carino of Aiea and charged him yesterday with one count of first-degree sexual assault and nine counts of third-degree sexual assault.
Bail was set at $50,000.