---
FAST FACTS HAWAII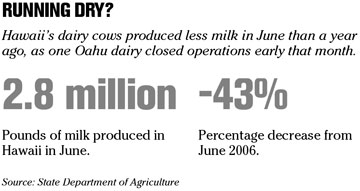 ---
Cyanotech delays earnings again
Cyanotech Corp.
said yesterday it needs additional time beyond its first two extensions to file its fiscal year-end financial report with the U.S. Securities and Exchange Commission.
The Kona-based producer of nutritional products from microalgae said accounting issues concerning the valuation of fixed assets may be resolved this week and that its year-end, or Form 10-K, statement will be filed "promptly thereafter."
Cyanotech also said its fiscal 2008 first-quarter earnings will be delayed but that those results should be filed "in reasonably short order" after the year-end results.
The company said its internal accounting probe, coupled with the hiring of a new controller of inventory and cost accounting, resulted in delays in closing its books.
Cyanotech said it does not expect its results for its fiscal first quarter ended June 30, 2007 to be significantly different than results reported a year ago.
Pacific Beach workers to rally
Pacific Beach Hotel employees and their union, ILWU Local 142, will be holding a rally from 4 p.m. to 5 p.m. tomorrow in the wake of last Friday's announcement that all of the hotel's 450 union employees will be terminated again less than a year after the last management changeover.
HTH Corp., owner of the Pacific Beach Hotel in Waikiki, will assume management of the 837-room hotel as of Dec. 1 from an affiliate of Outrigger Enterprises Group. Outrigger's affiliate, PBH Management LLC, has been managing the hotel on the corner of Kalakaua and Liliuokalani avenues since Jan. 1.
When HTH terminated the Pacific Beach work force last December, the union workers received a guarantee that everyone would be rehired by PBH Management with no loss of seniority, pay, benefits or employment rights.
Small biz disaster aid available
Small, nonfarm businesses in the counties of Hawaii, Honolulu, Kalawao, Kauai and Maui are eligible to apply for low-interest disaster loans from the U.S. Small Business Administration.
These loans offset economic losses because of reduced revenue caused by drought in the counties of Hawaii, Honolulu, Kauai and Maui beginning Jan. 1.
Small businesses may qualify for Economic Injury Disaster Loans of up to $1.5 million to help meet financial obligations and operating expenses which could have been met had the disaster not occurred.
For information and application forms, call (800) 659-2955, or go to www.sba.gov/services/disasterassistance.
Rescuecom opens isle outlet
Rescuecom
, a U.S. computer service and repair company, has opened its first franchise in Hawaii and its 173rd office nationwide.
The Honolulu-based outlet will provide onsite support and service 24 hours a day, seven days a week with a one-hour response capability and a "We fix it or it's free" guarantee.
More information is available at www.rescuecom.com or by calling 1-800-RESCUE.
---
[ HAWAII INC. ]
NEW HIRES / PROMOTIONS
» Hawaii Medical Center has promoted
Catherine Tanaka
to chief operations officer of the east and west campuses. She has served as chief operations officer of Hawaii Medical Center East since January. She previously worked at the St. Francis Healthcare System of Hawaii for more than 20 years.
» Maui Land & Pineapple Co. has promoted Teri Freitas Gorman to vice president of corporate communications. She will continue to oversee strategic direction for the company's internal and external communications, media and community relations and community investment programs. She joined the company in January 2006 as director of corporate communications and was named vice president of communications for Maui Pineapple Co. and Kapalua Land Co. in March. She also serves on the Maui County Commission on Culture & The Arts and on the Maui Red Cross Advisory Council.
» Hawaii Superferry has announced its marketing team: Damon Hylton has been named director of marketing. He previously served as senior director of distribution and sales strategy at Hawaiian Airlines for six years and has 15 years of experience in the travel and marketing industries. John Medlock has been named manager of marketing and promotions. He previously served as marketing manager for Roberts Hawaii and has 15 years of marketing experience. Toby Holt has been named manager of e-commerce. He previously served as manager of systems development at Hawaiian Airlines. Allie Teruya has been named partner sales representative. She previously worked as administrator of North American sales at Hawaiian Airlines.
» Hawaii Commercial Real Estate has announced the following promotions and new hire: Catherine Coelho, John Donaldson-Selby and Sheila Chong have been promoted to vice presidents. Victor Arcayena has been hired as senior associate.
BOARD ELECTIONS
» The Hawaiian Historical Society has elected
John Clark
as president. He replaces C. Dudley Pratt Jr. Also elected to the board of trustees are
Victoria Nalani Kneubuhl
,
Glenn E. Mason
and
James K. Mee
.
» The American Marketing Association Hawaii chapter has announced its directors for 2007-2008: Bob Peterson, president; Christina Doane, immediate past-president; Paul Dyson, president-elect; Sandy Narvaez, secretary; John Held, treasurer; Keith DeMello, vice president of communications; Lee Collins, vice president of membership; Georgette Stevens, vice president of programs; Kathryn Harper, vice president of sponsorships; and Janilee Mariano, collegiate relations.
» The Better Business Bureau of Hawaii has announced its executive board and members for 2007-2008: Harry Byerly, chairman; Wayne Kirihara, first vice chair; Hoyt Zia, second vice chair; Philip Sammer, secretary; Thomas Dixon, treasurer; and Fred Badua, immediate past chair. New members include Jerry Raukhorst, Bobby Senaha, Rachel Shimamoto and Lilia Yu-Lum.
CERFITICATIONS / AWARDS
» The Council of Real Estate Brokerage Managers has awarded the following Realtors with the CRB designation:
Mikki Kumai
, Ivy K. Realty;
Cori K. Meyers
, Kapolei Realty;
Patti Nakagawa
, Coldwell Bank Pacific Properties;
Roy H. Ninomiya
, West Oahu Realty;
Anne Scheffelmaier
, Dalmally Realty;
Francine Villarmia-Kahawai
, Armstrong Properties; and
Elizabeth Worrall Daily
, Mary Worrall Associates.
---
BUSINESS PULSE