---
FAST FACTS HAWAII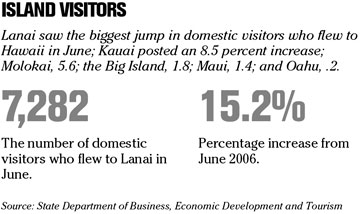 ---
Pasha to raise fuel surcharge
Pasha Hawaii Transport Lines
, Hawaii's third-largest ocean shipping carrier, will raise its fuel surcharge to 21.5 percent as of Aug. 31.
The company, which ships vehicles between Hawaii and San Diego, currently has a 19.5 percent surcharge.
The decision to raise rates comes after rivals Matson Navigation Co. and Horizon Lines Inc. announced they would increase their fuel surcharges to a record 24 percent because of recent increases in bunker fuel and energy-related expenses.
Matson's fuel surcharge will increase on Aug. 19, while Horizon's is set to rise Aug. 20.
Labor Department head leaves
Nelson Befitel, the former head of the state Department of Labor and Industrial Relations, is leaving the department after 4 1/2 years of state service to embark on a new career as corporate counsel for ProService Hawaii, the state's largest employee outsourcing firm.
Befitel, whose last day with the state was yesterday, will begin work at ProService Hawaii on Sept. 4 where he will ensure that clients are complying with labor laws and that employees are afforded all entitled rights.
"The outsourced employee administration industry has taken off on the mainland," said Befitel, who has practiced law in both the public sector and as a private attorney. "It's new to Hawaii, but there is the potential for a lot of growth."
Hawaiian tops magazine's ratings
Hawaiian Airlines
was ranked by readers as the nation's top airline serving Hawaii for the ninth consecutive year by Travel + Leisure in the magazine's 2007 World's Best Awards.
Earlier this year, Hawaiian was ranked third nationally by Travel + Leisure's readers behind Midwest Airlines and JetBlue Airways based on cabin comfort, food, in-flight service, customer service, and value.
[ HAWAII INC. ]
NEW HIRES / PROMOTIONS
» The Hawaii Employers Council has hired
Michael D. Wing
as senior labor relations consultant. He has worked in the airline service industry for 34 years and currently serves on the board of the Honolulu Christian Church and the Central YMCA Board of Managers.
» Kaiser Permanente has hired Michael D. Moss as director of sales and marketing of the Kaiser Foundation Health Plan Inc., Hawaii region. He will oversee Kaiser's sales and marketing team, serve as the primary liaison for the health care consultant and broker community and develop initiatives to meet membership objectives. He previously served as manager of state, union and neighbor island accounts at HMSA and has extensive experience in strategic account management and health insurance sales.
» Hawaii Medical Center East has announced the following new hires and promotion: Jeffrey Croley has been named assistant chief operating officer. He previously served in the U.S. Army Medical Command for 25 years and at Tripler Medical Center. Rebecca Klungreseter has been named chief nursing officer at Hawaii Medical Center West. She previously worked in various nursing and management positions at Queen's Medical Center. Katie Speidel has been promoted to pharmacy manager for the hospital's East and West medical centers. She previously served as clinical pharmacist of cardiology at Hawaii Medical Center East.
» Brookfield Homes Hawaii has hired Sean Combs as a sales associate for Nihilani at Princeville. He previously worked as director of sales and marketing at G Companies Inc. and has more than 15 years of experience in sales and marketing.
» Maui Divers Jewelry has promoted Michele Hulme to vice president of design and visual merchandising. She will be responsible for the company's jewelry designs and store presentation, which include windows, in-store visuals and other displays. She has served the company for nearly 30 years.
» Hawaiian Airlines has named Miranda Scott as director of business development. She will manage the company's online agency partners and develop business opportunities and online merchandising. She previously served as a market manager for the Expedia Inc. Partner Services Group.
» KHNL/KFVE-TV has hired Diane Aucott-Ward for its sales and marketing executive team. She previously served as a retail sales manager for the Honolulu Advertiser and has more than 12 years of experience in media sales for local TV and radio stations.
» Durrant Media Five has announced the following promotions: Jeanette Roberts has been promoted to associate from operations administrator. Dennis Osato has been promoted to associate from senior designer. Dean Ichiyama has been promoted to associate from architect.
---
Peter Pan peanut butter gets OK
OMAHA, Neb. » Peter Pan peanut butter will return to stores this month with a 100 percent satisfaction guarantee as
ConAgra Foods
seeks to reassure customers it has fixed the problems that allowed salmonella to contaminate the product.
Tesoro earnings rise 36 percent
SAN ANTONIO »
Tesoro Corp.
, which operates the largest refinery in Hawaii, said second-quarter net income rose 36 percent as gasoline prices and profit margins on oil processing climbed to all-time highs.
Profit increased to a record $443 million, or $3.17 a share, from $326 million, or $2.33, a year earlier. Revenue climbed 14 percent to $5.6 billion.
The total number of barrels of refined products of gas, jet fuel, diesel fuel and heavy oils at the Hawaii facility rose 1.2 percent to 87,000 daily barrels from 86,000 daily barrels while the refining margin decreased to $6.74 a barrel from $7.32 a barrel.
Green machine
The Zonbu is a new kind of computer that uses a fraction of the electricity of a standard PC. The low-power mini computer is the size of a wireless modem and weighs 2 pounds. It also consumes four times fewer chemicals and fossil fuels during manufacturing than regular computers, according to the company's Web site,
www.zonbu.com
.
---
BUSINESS PULSE