---
FAST FACTS HAWAII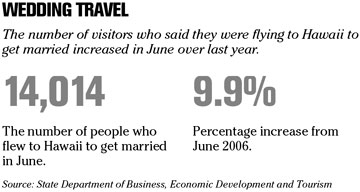 ---
Jetstar to stop Melbourne service
Jetstar Airways
, which began Australia-Honolulu service in December, said yesterday it will stop offering direct flights from Melbourne beginning in October because it failed to meet the carrier's expectations.
The low-cost carrier, a subsidiary of Qantas Airways, will offer an additional two Sydney-Hawaii flights -- bringing the weekly total to five flights -- to replace the canceled Melbourne services.
Hawaiian Electric dividend holds
Hawaiian Electric Industries Inc.
said yesterday it will maintain its quarterly dividend at 31 cents a share, payable Sept. 11 to shareholders of record at the close of business on Aug. 20. The ex-dividend date will be Aug. 16, meaning that will be the first day the stock will be traded without the shareholder being entitled to the upcoming payment.
The annual payout of the dividend is $1.24 a share, which equates to a yield of 5.7 percent based on yesterday's closing price.
[ HAWAII INC. ]
NEW HIRES / PROMOTIONS
» Meadow Gold Dairies Hawaii has announced the following promotions:
Joseph Miguel
to vice president of manufacturing. He previously served as operations manager for Fullerton Cultured Specialties for six years and has extensive experience in the dairy industry.
Reed Ogino
has been promoted to vice president of branch operations from vice president of sales, marketing and distribution. He has served the company's Honolulu, Kauai and Maui branches for 19 years.
Joni Marcello
has been promoted to assistant sales and distribution manager. She has served the company for eight years as an executive assistant to the general manager and as a strategic marketing manager.
Rose Tsuru
has been promoted to area sales and distribution representative. She has served the company since 2000 as sales and distribution coordinator and as distribution and logistics coordinator.
Lorene Yoshimura-Tanigawa
has been promoted to purchasing assistant. She has served the company since 2003 as logistics coordinator, distribution assistant and production accountant.
» Communications Pacific has hired Franklin Clay as a senior account executive in the public relations practice. He will be responsible for media relations and corporate communications , including the new land-use and real estate divisions. He has three years of public relations experience in the hotel, travel and tourism and real estate industries.
» Bennett Group Strategic Communications has promoted Lee Tokuhara to vice president. She will oversee public affairs, community relations and public policy for the firm's key clients, which include Whole Foods Market, Maui Land & Pineapple Co., Bank of Hawaii, Verizon Wireless and D.R. Horton Schuler Division. She has served the firm since 2005.
» Allana Buick & Bers has named Dana C. Bergeman as principal. He will continue to oversee the architectural and engineering firm's Hawaii division, with offices in Honolulu and Lahaina.
» The W Honolulu Diamond Head has hired Christine Prestwood as talent coach. She will serve as manager-on-duty and oversee the hotel's front office, valet and guest services. She previously served as an administrator and hostess for Norwegian Cruise Line for more than two years.
---
Warner Music's net loss widens
LOS ANGELES»
Warner Music Group Corp.
, one of the world's largest recording companies, said yesterday its fiscal third-quarter loss widened as more people bought digital music, rather than CDs.
The loss for the quarter ended in June was $17 million, or 12 cents per share, versus a prior-year loss of $14 million, or 10 cents per share. Excluding nonrecurring items related to a corporate restructuring and settlement, the loss in the 2007 quarter was $29 million, or 20 cents per share.
Revenue declined 2 percent year over year to $804 million from $822 million. On a constant-currency basis, revenue fell 5 percent.
Cisco net jumps 25% on sales
SAN JOSE, Calif. »
Cisco Systems Inc.
, the world's largest maker of computer-networking equipment, said profit increased 25 percent as customers boosted spending on Internet gear. The company forecast sales that beat estimates, sending the shares higher.
Fourth-quarter net income climbed to $1.93 billion, or 31 cents a share, from $1.54 billion, or 25 cents, a year earlier, the San Jose, Calif.-based company said yesterday in a statement. Sales rose 18 percent to $9.43 billion in the quarter ended July 28, topping analysts' projections
Macintosh updated
Apple Inc. debuted an updated version of its iMac computer yesterday, hoping to further propel sales that already outpace the rest of the industry. The all-in-one iMac has aluminum casings and will come in only 20-inch and 24-inch versions. Prices start at $1,199 and $1,799, respectively.
BRIEF CASE
Wage boost.
McDonald's Corp., the world's biggest restaurant company, plans to raise wages in China by 12 percent after government criticism of the chain's labor practices. McDonald's will increase salaries for its restaurant workers to 56 percent above minimum wage guidelines.
Not so sunny. Server and software maker Sun Microsystems Inc. plans to reduce its work force as part of a new restructuring plan, according to a regulatory filing with the Securities and Exchange Commission.
---
BUSINESS PULSE