---
FAST FACTS HAWAII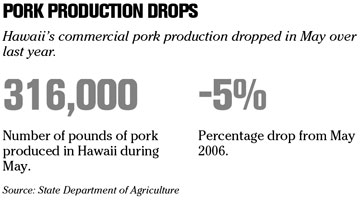 ---
Aloha, flight attendants OK pact
Aloha Airlines
' flight attendants have ratified a new contract with the airline.
No details were disclosed under a joint agreement between the company and the Association of Flight Attendants-CWA, which represents 400 members. However, the two parties, who jointly announced the agreement yesterday, said the new collective-bargaining agreement will enable Aloha to be more competitive in its markets and allow the airline to move forward with expansion plans.
"We applaud our flight attendants for taking this significant step that underscores their commitment to Aloha's future success," said David Banmiller, president and chief executive of Aloha.
Gail Kim-Moe, master executive council of the AFA for Aloha, said the contract will help the airline "compete more effectively in these challenging times."
Hawaiian No. 1 in on-time flights
Hawaiian Airlines
held onto its reign in June as the nation's top on-time carrier.
In holding off rival Aloha Airlines, Hawaiian captured top honors for the second straight month and finished first in June for the 41st time in the last 44 months with 92.9 percent of Hawaiian's flights being completed within 15 minutes of their scheduled arrival time, according to data released yesterday by the U.S. Department of Transportation.
Aloha, which took second with an on-time arrival rate of 86.8 percent, was the only other carrier to be on top during the three months when Hawaiian dropped to second.
Hawaiian also took top honors for fewest mishandled bags and fewest cancellations and was second for fewest oversales. Hawaiian was 10th in fewest consumer complaints.
Besides its runner-up on-time ranking, Aloha was first in fewest consumer complaints with zero, third in fewest mishandled bags, fifth for fewest oversales and 11th in fewest cancellations.
Windward Mall to offer play area
As part of its $23 million renovation, Windward Mall will be unveiling an indoor children's play area themed after the Hokule'a Voyage of Discovery.
The new play area, measuring 25 feet by 40 feet, will be unveiled during a blessing ceremony on Friday morning before invited guests and city officials.
The celebration also will welcome the mall's first full and recently opened Borders bookstore, measuring 22,000 square feet. Windward Mall is owned by Kamehameha Schools and managed by General Growth Properties Inc.
Frontier Air CEO joins Case's club
DENVER »
Frontier Airlines
Chief Executive Jeff Potter will become CEO of Exclusive Resorts next month when he leaves the airline, the privately held luxury destination club announced yesterday.
America Online co-founder and Honolulu native Steve Case is the majority shareholder of Exclusive Resorts, which grants its members access to more than 350 upscale residences in 40 destinations around the world.
BRIEF CASE
Growth forecast:
The Japanese government raised its economic growth projection yesterday for the current fiscal year by one-tenth of a percent on strong exports and increased business investment. In a midyear review, the Cabinet Office estimated Japan's economy will grow at a price-adjusted -- or real -- 2.1 percent pace this fiscal year ending March 2008.
JAL cuts loss: Japan Airlines Corp. said yesterday it cut its net loss for the April-June quarter 84 percent from a year ago by altering routes and using smaller aircraft. Losses at the carrier stood at &YEN4.2 billion ($35.7 million) for its fiscal first quarter, from a &YEN26.7 billion a year ago.
---
BUSINESS PULSE