---
FAST FACTS HAWAII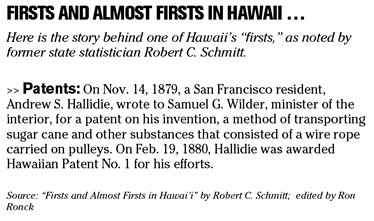 ---
HAWAII
Not all of workday is productive
The average employee's 9-to-5 workday is more like 9-to-3 when you consider the time spent slacking off, a new survey has found.
The average worker wastes 1.7 hours of a typical 8.5-hour workday, according to a nonscientific survey by Salary.com, which provides software that analyzes companies' compensation structures.
Surfing the Web, socializing with co-workers and conducting personal business were the leading time-wasting activities.
The justifications for burning daylight covered both ends of the spectrum. Nearly 18 percent of respondents said not having enough work to do was the reason for their slacking, while almost 14 percent blamed needing to take a break from long hours.
"If you don't have enough to do, make sure you tell the person who's responsible for keeping you busy," said Bill Coleman, chief compensation officer at Salary.com.
The amount of time wasted on the job has fallen 19 percent since 2005, when employees reported slacking off an average of 2.09 hours per day. Businesses move at a faster pace these days, and there's simply less time to waste at work, Coleman said.
The online survey included more than 2,000 responses from America Online and Salary.com users, and was conducted in June and July.
Some questions simply illegal
In their quest to find the right man or woman for the job, many employers ask inappropriate or illegal questions during the interview process without even knowing it. Many job applicants struggle with how to react in such situations, according to legal analyst Jeff Isaac.
"There's a lot of gray area about which most people have no clue," Isaac said. "Most employers don't understand the nature of what they can legally ask."
Generally illegal areas to ask about include race, religion, national origin, age, disability and family status. Many employers don't know, however, that they can't ask a woman if she has kids, Isaac said. They can inquire whether she has any commitments that would prevent her from working late.
Similarly, it's illegal for a prospective employer to ask if an applicant has a disability. But the interviewer is allowed ask if the candidate is capable of climbing a ladder if the job requires it, he said.
Isaac suggests one of two courses of action if you are asked an illegal question in an interview. You can ignore the question and deflect the conversation to your qualifications. Or, answer the question if it doesn't make you uncomfortable.
That question about your kids could be an attempt at friendly conversation instead of flagrant discrimination, he said.
---
BUSINESS PULSE