| | |
| --- | --- |
| | Newswatch |
---
HECO work to shut Makaloa lane
Hawaiian Electric Co. crews will be working in the area of Makaloa Street near Keeaumoku Street tomorrow through Friday.
They will be replacing two utility poles near the former Tower Records location because the existing poles are damaged. On-street parking in the area will be restricted and Makaloa Street will also be reduced to one lane (Ewa-bound only) between Amana and Keeaumoku streets from 8:30 a.m. to 2:30 p.m. each day, according to HECO.
Natural-disaster guide offered
A new "Homeowner's Handbook to Prepare for Natural Hazards" includes information on what you should do in case of a tsunami, hurricane, flood or earthquake.
The free guidebook by the University of Hawaii Sea Grant College Program spells out ways to lower serious risks to lives and property.
The handbook simplifies information normally used by scientists, engineers and architects planning for disasters, so that property owners can make informed decisions about cost-effective precautions, said co-author Dennis Hwang.
The guidebook is available online at www.soest.hawaii.edu/SEAGRANT/communication/publications. Printed copies can be ordered online by writing the UH Sea Grant Program at 2525 Correa Road, HIG 208, Honolulu, HI 96822; or by calling 956-7410. Shipping and handling charges will apply.
Driver charged in fatal accident
The driver of a sport utility vehicle that crashed in Waipahu last year, killing a passenger, has been charged with first-degree negligent homicide and first-degree negligent injury.
An Oahu grand jury last week indicted Stann Newo, who was allegedly driving in a negligent manner while under the influence of drugs or alcohol, causing the death of Havons Ludwig, the indictment said.
Ludwig, a 34-year-old Honolulu man, was the front-seat passenger in the SUV when it crashed about 1 a.m. July 5, 2006, into a tree on Waipio Access Point Road.
The indictment also states Newo also allegedly caused serious bodily injury to Victorio William, a back-seat passenger. Newo, then 20, was also in serious condition.
Police at the time said speed and alcohol were factors in the crash.
Young honored for conservation
Peter Young, former director of the state Department of Land and Natural Resources, was given the Outstanding Leadership Award from the Hawaii Conservation Alliance at the recent annual Hawaii Conservation Conference.
Young was cited as being an exceptionally strong leader in the conservation of Hawaii's unique plants, animals and the ecosystems that they inhabit, according to the Hawaii Conservation Conference.
Young lost his job at DLNR when the state Senate rejected his re-nomination by Gov. Linda Lingle earlier this year.
The Hawaii Conservation Conference is a group of natural-resource managers and scientists involved in the protection and management of Hawaii's environment.
Makaua Stream to be discussed
An informational meeting about a proposed restoration project for Makaua Stream is scheduled for Wednesday in Kaaawa.
Makaua was among Windward Oahu streams heavily damaged by the March 2006 storms.
The meeting sponsored by the state Department of Land and Natural Resources, will be 6:30 to 8:30 p.m. at the Kaaawa Elementary School Cafeteria, 51-296 Kamehameha Highway. Residents adjacent to the stream are encouraged to attend.
Federal funds from the U.S. Department of Agriculture's Natural Resources Conservation Service's Emergency Watershed Protection Program will be combined with state funds to remove debris and restore portions of the stream, Interim DLNR Director Laura Thielen said in a news release. Work on the project is scheduled to begin next summer.
| | |
| --- | --- |
| | Police, Fire, Courts |
---
WAIALUA FIRE BURNS BRUSH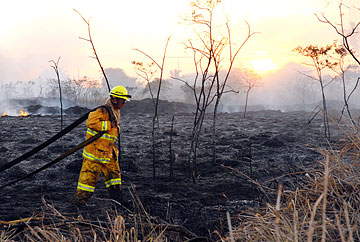 NEIGHBOR ISLANDS
2 teens injured in Hilo house fire
A house fire in Hilo sent two 17-year-old boys to the hospital yesterday morning, one with first- and second-degree burns to his hands and feet, the other with smoke inhalation.
Both boys were sleeping in the rear bedroom of the two-story house at Kanoelehua and Puainako streets when the fire started.
Firefighters responded just before 1 a.m. and the fire was under control within 15 minutes, according to the Hawaii Fire Department.
Damage to the home was estimated at $120,000 and the cause of the fire is under investigation, officials said.
Woman missing on Big Island
Big Island police are looking for a 35-year-old woman who has been missing since July 27.
Kimberly Ann Cardarella of Puna is 5 foot tall, 100 to 110 pounds, with brown eyes and shoulder-length brown hair.
Anyone with information can call Puna police at 966-5835 or the police department's non-emergency line at 935-3311. Anonymous calls can be made to CrimeStoppers at 329-8181 in Kona or 961-8300 in Hilo.
WAIKIKI
Examiners identify body from water
A 79-year-old Norway man who died Friday after being pulled from the water in Waikiki was identified by the Honolulu Medical Examiner's office as Landa Torstein.
Torstein died at Straub Clinic and Hospital at 11:44 a.m. An autopsy has been scheduled to determine the cause of death.