Police seek trio of teens in attack
Witnesses say that the victim was beaten after being robbed
Honolulu police are asking for the public's help in identifying three teenagers who reportedly robbed and beat a man in Waikiki early Sunday, sending him to the hospital unconscious with a broken jaw and nose.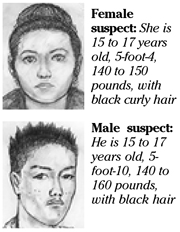 Police said the victim, 24, was walking along Kuhio Avenue at about 1:55 a.m. when a female stopped him and struck up a conversation. The victim might have been drunk at the time, said Sgt. Kim Buffett, Honolulu CrimeStoppers coordinator.
Two other females saw the victim talking to the first female and stopped to talk to the victim.
"They know his girlfriend so they're like, 'Who is this girl?'" Buffett said.
As all of them were talking, the female who initially stopped the man took his wallet from his back pocket and ran down Royal Hawaiian Avenue, the other witnesses told police. They said the victim ran after her and was confronted by two males who punched him in the face, knocking him to the ground.
"They continue kicking and punching him in the face. He loses consciousness and awakes, and he's at Queen's hospital," Buffett said.
The female witnesses told police they saw all three suspects leave together.
Buffett said the suspect is in stable condition. In addition to the broken nose and jaw, the victim also suffered a break to the bone surrounding one of his eye sockets, she said.
The female suspect is described as 15 to 17 years old, 5 feet 4 inches tall, 140 to 150 pounds, with black curly hair and hazel eyes. She was wearing a black pullover jacket, camouflage board shorts and black sneakers.
The two males have similar descriptions and could be related. They are believed to be 15 to 17 years old, 5 feet 10 inches tall and 140 to 160 pounds. One has pockmarked skin on his face and black, spiked hair. He was wearing a white tank top and black denim shorts.
The other male suspect was wearing a black tank top and black denim shorts.
Anyone with information about the suspects is asked to call Honolulu police or CrimeStoppers at 955-8300.