| | |
| --- | --- |
| | Newswatch |
---
3 in court over Big Isle shooting
HILO » Three suspects in the alleged kidnapping and shooting of a 23-year-old woman who was left to die in a Big Island forest last month appeared in Hilo District Court yesterday, but no new information was learned about the case.
The victim, who was found by three men about two weeks ago in a forest 60 miles south of Hilo, is recovering. Her name has not been released.
A preliminary hearing for the main suspect, Rodney Bohol Sr., was postponed until Aug. 24.
Defense attorney Robert Rodrigues told the court he had just been assigned the case via telephone yesterday morning, had received well more than 100 pages of documents and needed more time to prepare. Bohol agreed to the delay.
Two alleged accomplices -- sisters Jody Lassen, 34, of Hilo and Danolin Souza, 36, of Orchidland -- appeared in the same court for initial processing.
Judge Barbara Takase set a preliminary hearing for the two on Monday. The hearing would require the prosecution to explain the reason for charging the women with kidnapping, attempted murder, unauthorized entry of a motor vehicle and assault.
Bohol is being held without bail. The women are being held in lieu of $100,000 bail each.
Pali, Ala Moana to have closures
Portions of Pali Highway and Ala Moana Boulevard will be closed this weekend for construction and maintenance, according to the state Department of Transportation.
Pali Highway will be closed in the Honolulu-bound direction from Kamehameha Highway to Waokanaka Street starting tonight until 7 a.m. tomorrow. Crews will close the highway for tunnel cleaning and maintenance.
Honolulu-bound motorists should use alternate routes such as Likelike Highway or the H-3 freeway and allow for extra travel time. Only emergency vehicles will be allowed through the closed section, the Transportation Department said in a news release.
On Ala Moana Boulevard, construction crews are closing up to two lanes in the eastbound direction between South and Cooke streets. Work began yesterday and will continue until 5 a.m. Monday as crews construct new drainage, curb and gutter systems.
Motorists should use caution while driving through the area.
Hawaii convicts hurt on mainland
Three Hawaii inmates being held at a mainland prison suffered minor injuries from incidents that occurred after 12 cell doors were inadvertently opened, state officials said.
The incidents occurred at the Saguaro Correctional Center in Arizona at about 2:30 p.m. yesterday.
Department of Public Safety officials said they were informed that seven inmates left their cells when the doors opened.
Two inmates fought, with one suffering "superficial" injuries, officials said in a news release. A third inmate was sprayed with a chemical similar to pepper spray when he refused to return to his cell, officials said.
All were treated and later returned to their cells.
Officials with Corrections Corp. of America, which operates the prison, said the inadvertent opening of cell doors was caused by human error.
Clayton Frank, interim director of public safety, said he plans to send a team of administrators to the Arizona facility later this month to conduct an inspection.
| | |
| --- | --- |
| | Police, Fire, Courts |
---
NEIGHBOR ISLANDS
Police say man tried to hold boy
HILO » A Big Island man has been charged with attempted kidnapping after allegedly trying to restrain a 4-year-old Michigan boy in a restroom, police said.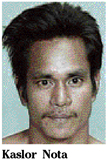 Kaslor Nota, 35, of Hilo was being held in lieu of $50,000 bail.
Police said the alleged victim's adult brother witnessed the incident at about 4:15 p.m. Tuesday in the downtown Hilo area and attempted to intervene, causing Nota to flee. Nota was arrested by police who arrived at the scene later and found him.
Anyone with further information is asked to call police at (808) 961-2383 or CrimeStoppers at (808) 961-8300.
Woman identified after fatal crash
Big Island police identified the woman who was killed Tuesday in a one-car crash in Kailua-Kona as Marianne Smith Dean of Pleasanton, Calif.
Smith Dean died of respiratory arrest when the vehicle she was driving crashed into a rock wall at Lako Street and Hualalai Road, police said.
This incident was not counted as a motor vehicle accident for statistical purposes since the crash did not cause her death, police said.
WINDWARD OAHU
Kailua house fire blamed on candle
An unattended candle caused a Kailua house fire early Thursday morning, fire Capt. Frank Johnson said.
The fire caused an estimated $160,000 in damages to the house at 219 Kihapai St.
Two men who lived in the home were treated for minor injuries.
HONOLULU
Man injured while detaining suspect
A bystander tackled an alleged purse snatcher yesterday and was injured while trying to detain the 19-year-old Makakilo man.
Police said the 19-year-old allegedly grabbed the purse of a 37-year-old woman while she was drinking coffee at a Honolulu establishment 11:20 a.m. yesterday.
Police said the bystander witnessed the robbery and tackled the man, and the two struggled. The bystander received minor back injuries during the struggle.
Patrol officers arrested the suspect for investigation of second-degree robbery.
Police seek man in Kalihi robbery
Police were looking yesterday for a 25-year-old man for the gunpoint robbery of nine men gambling at a Kalihi home Thursday night.
Police arrested a 23-year-old man Thursday night on suspicion of five counts of first-degree robbery and four counts of first-degree terroristic threatening.
The robbery occurred at about 10:30 p.m. Thursday.
The 25-year-old man allegedly pointed a pistol at the victims and demanded they empty their pockets, police said. The 23-year-old man collected money and a cell phone from five of the victims, who range in age from 19 to 37.
The 25-year-old man allegedly fired multiple shots in the air.
Later Thursday night, police arrested the 23-year-old man.
LEEWARD OAHU
Aiea bank robber flees with cash
Police are looking for a suspect who allegedly robbed a bank in Aiea yesterday.
The suspect entered the bank and handed the teller a demand note, police said. He fled with an undisclosed amount of cash, police said.
The robbery occurred at 5:40 p.m.
Police would neither disclose the name of the bank nor the street address.