| | |
| --- | --- |
| | Island Mele |
---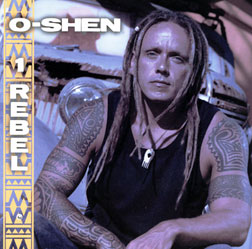 1 Rebel
O-shen
(Sharpnote Records SNR0024)
O-shen's previous album, "Faya," was recorded in Papua, New Guinea, and had an unusual raw sound not heard in the work of Hawaii-based "island music" artists. He did this one here and reaffirms himself as one of the two major local artists who can do reggae in a language other than English (the other is Fiji).
Jamaican guests add authentic Afro-Caribbean patois while O-shen presides in English, Hawaiian and Niugini pidgin (the official natural language of his childhood homeland). Rock-solid instrumental arrangements by Brett Fovargue and Laka Preis Carpenter add the final essential components to this landmark album.
O-shen establishes a theme with the title song. In it he proclaims music "a weapon of mass instruction," and then comments on U.S. foreign policy, Ethiopia's place in human history and the "discovery" of America.
Other songs also combine political commentary, catchy rhythms and memorable lyric hooks. In "Neva Seen a Ghetto" O-shen throws down a reality check for Hawaii residents who describe their 'hoods as ghettos: "What you call a ghetto hood/some people call utopia." In other words, if you've got clean water, electricity and indoor plumbing, you haven't seen a real ghetto.
O-shen gives marijuana advocates a perfect campaign song with "Legalize the Herb." Several other songs show his romantic side.
---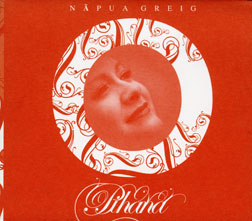 Pihana
Napua Greig
(No label, no serial)
Maui-based kumu kula Napua Greig makes her debut as a recording artist with an endorsement from Keali'i Reichel and this beautiful collection of Hawaiian and hapa-haole songs. Greig captures the ear and the heart with her first falsetto number, "Ku'u Home Alokele," and maintains the magic through each selection. Song-by-song performance credits aren't provided, but she's backed by some of Hawaii's best musicians -- Chino Montero, Kale Hannahs, Casey Olsen and Aaron Sala, to name four.
Greig uses both vocal registers on "Ho'oheahea," a Hawaiian song that employs a single English phrase as counterpoint to the Hawaiian lyrics (the liner notes provide basic English translations; a photo of Greig playfully sticking her tongue out underscores the impression that this is a "fun" song). She uses a similar bilingual technique with "Lovely Sunrise Haleakala," a beautiful "place song" in honor of the Valley Isle landmark.
Other selections display Greig's appeal as a Hawaiian balladeer. On yet another, "Ku'u Li'a Pua Ka Hinano," she incorporates melodic chanting. "Blue Lei" adds a romantic hapa-haole song to the collection.
Producer Dave Tucciarone maintains the purity of Greig's work by backing her with traditional Hawaiian instruments and eschewing synthesizers.
---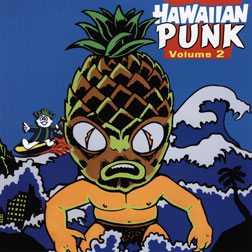 Hawaiian Punk Volume 2
Various Artists
(Hawaiian Express HE095)
No one has worked harder in recent years to raise awareness of Hawaii's underground punk scene than concert promoter/record producer Jason Miller. While many local punk acts don't look beyond their own small fan base, Miller thinks in terms of larger markets and mainstream visibility. And so, although most punkers are probably already adept at file sharing and downloads, Miller's second "Hawaiian Punk" anthology makes the work of 24 bands available to mainstream CD buyers.
Black Square, the Ex-Superheroes and Upstanding Youth are already known outside the "underground." Others are probably making their first and last appearance on a conventional CD. Collectively their work documents once again the energy, wit and musical diversity to be found in the local punk scene.
Several selections stand out. The Pettyfords turn "aloha" into a term of punkish dismissal in "Aloha Means Goodbye," and No Bare Feet speaks for many generations of teen males as "8th Grade Teacher" describes a teen's desire for his favorite instructor. The Substitoots add a touch of comedy with their ode to "Pizza," F.F.O.R (Fists Full of Rage) contribute a frenetic ode to most punkers' beverage of choice with 'Have Another Beer," and the Supersonic Space Monkeys capture the emotional torture of a broken heart with "Anatomy of Losing You."
Information on the groups, is available at www. hwnexp.com.
John Berger
, who has covered the local entertainment scene since 1972, writes reviews of recordings produced by Hawaii artists. See the Star-Bulletin's Today section on Fridays for the latest reviews. Reach John Berger at
jberger@starbulletin.com
.