---
FAST FACTS HAWAII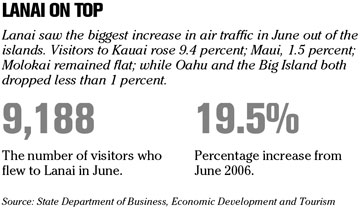 ---
Hoike takes stake in data tech firm
Hoike Technology
has acquired a minority interest in
Century Computers Inc.
to create the largest Hawaii-based networking service group, Hoike said yesterday.
As part of the deal, Hoike's eight networking services employees will be merged with the 72 workers at Century Computers' Restaurant Row offices.
Hoike, an information technology company, is a subsidiary of Island Holdings Inc., owner of Island Insurance Co. Ltd.
Honolulu-based Century Computers is an information technology services company founded in 1983.
American Savings to extend hours
American Savings Bank is extending hours at its 64 branches statewide beginning Aug. 31.
The bank has decided to offer longer hours than any other bank in Hawaii in an effort to better accommodate customers, the company announced yesterday.
The standard weekday hours at most Oahu branches will be 9 a.m. to 6 p.m. or 7 p.m. Most neighbor island branches also will offer extended hours, moving to the new schedule early next year. Most banks close at 4 p.m.
In addition, the company is extending Saturday hours at 46 branches from 9 a.m. to 1 p.m. or 4 p.m., while Sunday and holiday hours will be 9 a.m. to 4 p.m. at 14 locations.
American Savings, Hawaii's third-largest bank with $6.8 billion in assets, also will have longer weekday hours at selected branches in downtown Honolulu and on the University of Hawaii campus, opening from 8 a.m. to 5 p.m.
ResortQuest sale boosts net
Gaylord Entertainment Co.
, which in April announced the sale of ResortQuest Hawaii LLC, reported a 6.9 percent increase in revenue to $189.4 million in the second quarter of 2007.
That compares to $177.1 million in the same period last year.
The Nashville company posted net income of $106.8 million, compared to a loss of $5.2 million, in the year-earlier quarter.
Gaylord's hospitality segment's total revenue rose 7.1 percent to $168.4 million in the second quarter, compared to $157.2 million in the year-ago period.
Mobi PCS opening seventh store
Mobi PCS
, the only locally operated wireless network in Hawaii, will expand its presence on Oahu with the opening of its seventh retail store today.
The 700-square-foot store, which will be managed by wireless-industry veteran Andy Honda, will be located next to Cold Stone Creamery in the Salt Lake Shopping Center.
The new location joins existing Mobi PCS stores in Pearlridge Center, Windward City Shopping Center, Kapolei Ace Center, Mililani Town Center, Pearl Harbor Navy Exchange and at 1467 South King St. In addition, Mobi PCS is available through 68 dealer locations across Oahu.
The company, which utilizes its own 3G CDMA network to provide islandwide coverage, also expects to open a Waialae Avenue location in Kaimuki later this month.
Outrigger expands in Australia
Outrigger Hotels & Resorts
will manage the 343-room Twin Towns Services Club on the Queensland-New South Wales border -- its second Australian resort contract announced in the past week.
The company will manage the hotel's two high-rise towers and a $1 million renovation.
Outrigger will assume management of the resort on Nov. 1, pending the approval by the Twin Towns Services Club members and owners. The club's gaming, entertainment, meeting and food and beverage facilities will remain under the current owners.
---
BUSINESS PULSE