---
FAST FACTS HAWAII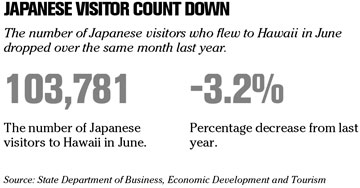 ---
Harassment rules vote postponed
A pivotal vote that would have changed 25 years of existing rules governing harassment in the workplace was postponed yet again.
The Hawaii Civil Rights Commission yesterday decided to wait until the return of its chair, Carol Wong Pietsch, from out-of-town business as well as the appointment of a new commissioner for a vacant seat.
Under the proposed changes, employers would no longer be held strictly liable when their supervisors harass an employee based on sex and ethnicity. Proponents of the changes say they would bring Hawaii rules more in line with existing federal guidelines.
No date for the vote has been set yet.
Matson unveils $5M Maui crane
Matson Navigation Co. has installed a $5 million mobile harbor crane at its Kahului port on Maui -- its first on a neighbor island.
The 150-foot tall crane shipped from Germany will handle containers, complementing Matson's container barge service, which moves vehicles and other rolling stock.
The investment is part of Matson's strategy of improving its overall level of service to and from Hawaii's neighbor islands. The crane is capable of lifting up to 40 tons of cargo.
Final Watermark units for sale
Intracorp Cos., developer of the luxury residential condominium project The Watermark Waikiki, has released its final phase of available units for sale and recently held its topping off ceremony for the project.
The topping off, an industry term for the moment when the highest structural point in the building has been attained, represents a significant milestone for The Watermark Waikiki, said Intracorp Vice President of Operations Loren Adams.
The Watermark Waikiki, a luxury condominium featuring 210 exclusive two-bedroom, two-bath residences and two penthouses, is slated to be completed in mid-2008.
Maui General enters joint venture
Maui General Store Inc.
has entered a joint-venture agreement with a Vietnamese company, and plans an initial public offering to select companies.
Its new division, Asia Merger & Acquisition Corp., will represent Vietnamese firms in negotiations with well-known investment banks in the United States and abroad, according to Maui General Chief Executive and President Richard Miller. The new division's emphasis will be on acquiring, consolidating and taking public undervalued companies in selective high-growth industries.
Prior to 2005, Maui General Store was a wholesaler of black and golden pearls.
Microsoft Vice President Rowland Hanson also has been appointed to the company's board of directors. -- Associated Press
Beating expectations
Whole Foods Market Inc. said third-quarter profit fell less than analysts estimated as customers paid more for food. Whole Foods, the largest U.S. natural-foods grocer, said yesterday that net income declined 9 percent to $49.1 million, or 35 cents a share, from $53.9 million, or 37 cents, a year earlier. Earnings beat analysts' estimates by 2 cents.
BRIEF CASE
Seminar:
A Hawaii Shop City seminar that will explore the cellular phone culture in Japan, as well as business opportunities to distribute merchandise information to the parent company's 1.5 million subscribers in that country, will be explored next Wednesday from 1 p.m. to 3:30 p.m. at the Halekulani Hotel. Contact Haruo Tadekawa at haruo@shopcity.jp, or call 230-7596 and leave a name and telephone number for reservations or information.
More options: The Federal Communications Commission approved rules yesterday intended to give consumers more choice in their cell phones and wireless devices after a new airwaves auction is held next year. The vote clears the way for the auction, which is expected to raise as much as $15 billion.
[ HAWAII INC. ]
NEW HIRES / PROMOTIONS
» The University of Hawaii System has named
Stephanie Kim
as director of government relations. She will represent the university at the state Legislature and before other public agencies and government bodies. She has served as acting director since January 2006 and previously served as government relations state liaison for six years.
» Durrant Media Five has hired Philip Studer as interior designer. He will be responsible for commercial, hospitality and other projects for the firm's Honolulu and Hilo offices. He previously served at Kondylis Design in New York.
» Castle & Cooke has hired Melanie Sogi as operations supervisor. She will be responsible for operations of the Dole Plantation, including leadership, quality assurance and customer service. She previously served as business sales representative for Verizon Wireless and has managed stores for Mobi PCS and Cingular Wireless.
» Griffith Construction Consultants has hired Ernest Arnold as project manager. He will be responsible for project construction management for A&B's Kaka'ako and Keola La'i condominium projects. He previously served as project construction administrator for Marnell Architecture in Las Vegas and has 15 years of experience in large-scale construction administration and project management.
» Summa Hawaii has hired Kari Meyer as tracking and logistics department head. She will be responsible for tracking all domestic and international products to ensure timely delivery, installation and cost efficiency for the company's clients. She previously served as an import and export specialist with DSV Air and Sea.
---
BUSINESS PULSE