| | |
| --- | --- |
| | Newswatch |
---
NEW MISS MAUI FILIPINA: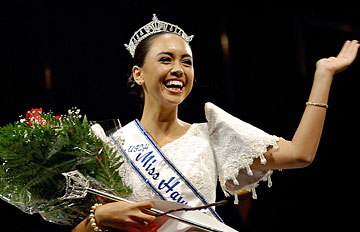 Artillery shells found on Molokai
WAILUKU » The only landfill on Molokai has been shut down after a contractor found what authorities describe as the largest collection of ordnance in decades.
Acting police Lt. Eugene Santiago said some 40 to 60 artillery shells were discovered yesterday afternoon at the landfill at Kalamaula in central Molokai.
Santiago, who has worked as a police officer for 20 years, said one or two shells have been found in the past but nothing of this magnitude on Molokai.
Santiago said the shells were probably from former military exercises that took place on Molokai in the late 1960s.
He said the shells were found by workers on a project to remove scrap metal from the landfill.
Santiago said as done in the past, police officials notified the Army explosive ordnance disposal unit at Schofield Barracks to assist in the removal.
He said police were waiting for a response before making further plans.
Driver in fatal crash sued
The families of two women killed in a Jan. 20 accident in Waimanalo are suing the then-17-year-old driver of the Ford Explorer that crashed into their Honda Accord, and his parents.
Cousins Michelle Benevedes, 39, and Racquel Akau, 38, were pinned inside the Honda when it was broadsided and crushed against a concrete tile wall by the sport utility vehicle traveling Makapuu-bound on Kalanianaole Highway.
The two Waimanalo women, both mothers, were pronounced dead at the scene.
The driver named in the lawsuit is Tyler Duarte, and his parents, Terrence and Toni Duarte, are also being sued.
The complaint alleges Tyler Duarte was speeding when he negligently crashed his vehicle into the Honda. It also alleges he willfully disregarded the safety of others while fleeing from police and under the influence of alcohol.
Police arrested the 17-year-old Waimanalo driver on suspicion of failure to render aid and operating a vehicle under the influence of an intoxicant. A negligent-homicide investigation is still pending, police said.
| | |
| --- | --- |
| | Police, Fire, Courts |
---
More charges for teen suspect
A 15-year-old boy charged with murdering 51-year-old Karen Ertell of Ewa Beach on May 25 was arrested yesterday for allegedly sexually assaulting her, as well as allegedly stealing and using her credit cards.
The teenage boy, who was Ertell's neighbor, was already being held for second-degree murder at the Alder Street detention home. He was arrested on suspicion of first-degree sexual assault, unauthorized possession of confidential personal information, theft of credit cards and fraudulent use of credit cards.
He also was arrested on suspicion of first-degree murder. If he were tried as an adult and convicted of first-degree murder, he would face life without the possibility of parole. Second-degree murder carries life in prison with the possibility of parole.
A Family Court hearing to determine whether the boy should be tried as an adult has been postponed.
Police said they identified the additional offenses after further investigation and laboratory results.
Ertell, owner of Koko Crater Coffee Roasters, was found in her home at 1 p.m. May 25. She died from strangulation.
The Prosecutor's Office would not comment on the case, citing confidentiality laws protecting minors.
Family and friends of Ertell are calling for the suspect to be tried as an adult.
The case is before the Family Court, where proceedings are closed to the public.
---
HONOLULU
16 men are sought in attack on couple
Police were looking for 16 men who allegedly attacked a couple and cut them with knives after an argument Sunday night in Kalihi.
Police said that at about 11:10 p.m. a married couple was walking to their truck to head home when they saw a man hitting the window of the truck, which was parked in Kalihi. The husband, 26, yelled for the man to stop and confronted him. A fight started and the wife, 20, intervened, police said.
About 15 men joined in and three of them had knives, according to police. The husband was slashed on his head, hand and back, while his wife had cuts on her arm, police said. The suspects fled in three vehicles.
The couple drove to a hospital and were treated and released, police said.
NEIGHBOR ISLANDS
Big Isle boy hurt in jump from rock
Big Island fire rescue crews helped a teenage boy who injured himself Sunday afternoon in the Boiling Pots area of the Wailuku River mauka of Hilo.
According to a news release from the Hawaii County Fire Department, the boy said he jumped about 15 feet into the river from a rock but did not clear rocks near the water.
He suffered injuries to his right wrist, forearm and right thigh, the release said.
Rescue crews helped the boy up a trail to a waiting ambulance, which took him to the Hilo Medical Center.
His condition was not available.
WEST OAHU
Air-conditioning failure caused fire
Probable failure of a window air-conditioning unit caused the fire that destroyed an Ewa Beach home last week, according to a Fire Department official.
The air-conditioning unit was in the bedroom at the rear of the home at 91-952 Fort Weaver Road, said Capt. Frank Johnson, spokesman for the Honolulu Fire Department.
Epifanio Pacquing, 96, was sleeping in the bedroom when he was awakened by popping noises. Pacquing escaped the fire with the help of two men. He suffered minor burns to his shoulder and back.
Damage to the home and contents is estimated at $300,000.