---
FAST FACTS HAWAII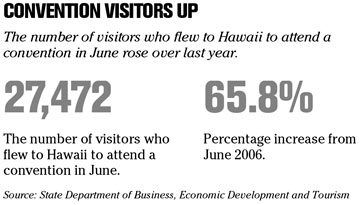 ---
Archer Daniels profit doubles
CHAMPAIGN, Ill. » Agricultural processor
Archer Daniels Midland Co.
said yesterday its fiscal fourth-quarter profit more than doubled, pushed by more than $600 million in asset sales.
Earnings from continuing operations, however, were more modest, hurt by the high cost of the corn that Decatur, Ill.-based ADM processes into products ranging from ethanol to soft drink sweeteners.
But the company said lower corn prices should help its earnings going forward.
Profit for the quarter ended June 30 totaled $954.8 million, or $1.47 per share, from $410.3 million, or 62 cents per share, during the same period a year earlier. Results include $616 million in one-time gains on asset sales.
Sanyo posts profit on share sale
OSAKA, Japan »
Sanyo Electric Co.
, the world's biggest maker of rechargeable batteries, posted its first profit in three quarters on a gain from selling shares. Operating profit fell the most in seven quarters as revenue declined.
Net income was 2.57 billion yen ($22 million), or 0.42 yen a share, in the fiscal first quarter ended June 30, compared with a loss of 9.67 billion yen, or 18.64 yen, a year earlier, Sanyo said yesterday. Sanyo had a one-time gain of 8 billion yen from the sale of 17 percent in Sanyo Electric Credit Co. to General Electric Co. in May. Sales fell 1.5 percent to 496.4 billion yen.
Sanyo, controlled by creditors including Goldman Sachs Group Inc., will sell its chip unit in a bid to post the first annual profit in four years.
BRIEF CASE
Barneys proposal: T
he operator of Japan's popular Uniqlo casual clothing chain says it has submitted a "definitive proposal" to acquire Barneys New York from Jones Apparel Group for $900 million.
Sweet profits: Gum and candy maker Wm. Wrigley Jr. Co.'s second quarter net income rose 21 percent, helped by international growth and a weaker dollar. Beating expectations: Sun Microsystems Inc. posted a fiscal fourth-quarter profit that beat Wall Street's expectations as the server and software maker benefited from lower expenses and increased adoption of its open-source operating system.
Shrinking losses: Scandal-marred Mitsubishi Motors says losses for the April-June quarter shrank from the same period last year, boosted by growing sales in North America, Europe and Asia.
---
BUSINESS PULSE