Man held in Big Island murder attempt
Big Island police arrested a man yesterday for suspicion of attempted murder in connection with a case in which a woman was found wounded in a remote forest area of Kau.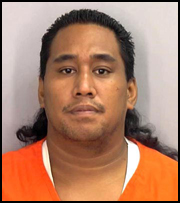 Rodney Bohol Sr., also known as Stacey Kawaehai, turned himself in at the Hilo station at 2:10 p.m., police said.
Big Isle police said three men abducted a 23-year-old woman from her home in Kurtistown in the Puna district about a week ago. She was allegedly beaten and taken to a remote area in Waiohinu, where she was shot several times and left to die, according to police.
Glenn Kohara, a Department of Water Supply employee, said she was wearing brown sweat pants and a sweatshirt when he and two other men found her around 11 a.m. Friday.
"She jumped out and waved us down," said Kohara. "She just wanted help and kept saying, 'Don't leave me.'"
She told them she had been shot and showed them several wounds in her lower back.
"It look like they shot her with some kind of pellet ammo," Kohara said. "Sort of like a buckshot."
The men drove her to a rescue staging area, where a Fire Department helicopter flew her to Kona Community Hospital in critical condition. Her condition has since improved and is listed as serious.
Kohara said they were lucky to have found her since they rarely go to that remote part of the forest.
"This was by rare chance that we went up there," Kohara said. "She has a guardian angel on her shoulder."