---
FAST FACTS HAWAII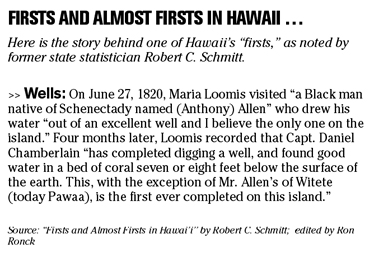 ---
NATION
Nike enjoying run with Apple Inc.
PORTLAND, Ore. »
Nike Inc.
says it has helped runners log more than 22 million miles with its Nike+ system in the past year. But more important, the company has gotten them to sit in front of their computers, too.
Nike launched Nike+ last year. The wireless system, created through a partnership with Apple Inc., allows some Nike shoes embedded with a sensor to communicate with Apple's iPod Nano.
Runners can track their speed, distance, calories burned and choreograph songs for themselves -- a high-tempo number for a rough hill, for example. Runners can also map their routes, buy specialty songs and download their running data to track their progress.
The most surprising component that has drawn runners, Nike said, is the social networking aspect. Runners challenge other runners on the Nike+ web site.
Airline tests family-friendly policy
NEW YORK » Can airlines do a better job of accommodating families?
That's the question Southwest Airlines is asking by experimenting with various ways to board and seat traveling families.
"We began testing about two weeks ago on all flights departing from San Antonio," said Linda Rutherford, the airline's vice president of public relations. "We are testing several different ways to conduct family boarding."
Options being considered include "having designated rows for family seating; having them board with no onboard designated area, and pre-boarding them as we would normally," Rutherford said.
She said the experiments would continue for a few weeks, and that it was too early to draw conclusions.
Make sure you are appropriate
Wanted: Business-to-business sales professional with five years experience in the financial services industry.
Actual response to this online job posting: Beautyholic and luxury lifestyle expert is salivating to work for your company!
The lesson: Don't apply for a job just because you can submit your resume online.
"You really need to make sure, as a candidate, that you really read each job description and know what they're looking for," said Michael Jalbert, president of employment recruiter MRINetwork.
Then, find out who is in charge of hiring and address your cover letter that individual. Also:
» Avoid "To whom it may concern."
» Tailor your submission to reflect each job description, rather than blanketing companies with a generic form letter, Jalbert said.
» Look for key words in the posting like "sales" or "project management" and edit your cover letter and resume to reflect your suitability for the job.
"There's nothing wrong with applying for a dozen different jobs; just make sure you modify your address," Jalbert said.
» Finally, target jobs within your skill and experience level, he said. Surely there's a company somewhere looking for just the right entry-level beautyholic.
Liking your job is important
Have you ever toiled to land a dream job, then dreamed of leaving after your first week?
Many of us have regretted accepting a new job, but if your second thoughts persist for more than six months, it may not pay to stay.
Sticking it out with a job you hate could cause your performance and attitude to suffer, damaging your reputation and future job prospects, according to John Challenger of employment consultants Challenger, Gray & Christmas.
Some of the most common reasons Challenger cites for regrets over a new position are that the job differs from what the job seeker expected, or the new employee doesn't get along with co-workers or perform well.
To avoid winding up in the wrong job, Challenger offered the following tips:
» Before starting your job search, identify "must have" and "like to have" characteristics of the position you hope to land. Once you receive an offer, evaluate how many of each would likely be fulfilled. Don't compromise on "must haves."
» Avoid rushing to accept. Most companies will give job candidates time to consider a job offer.
» Talk to friends and family about all aspects of the position and solicit their opinions. They know you better than the hiring manager who interviewed you.
---
BUSINESS PULSE