| | |
| --- | --- |
| | Newswatch |
---
Feds to detain accused barber
A longtime Honolulu barber accused of falsely claiming to be a U.S. citizen for fear of being deported was released from detention yesterday, but to the custody of federal immigration officials.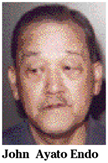 John Ayato Endo, 61, pleaded not guilty yesterday in U.S. District Court and was expected to be released by late afternoon.
U.S. Magistrate Judge Barry Kurren ruled Endo was neither a flight risk nor a danger to the community despite a 1984 conviction for child molestation, and approved his release to the custody and supervision of his longtime employer, Beatrice Nakamura. However, immigration officials were expected to take custody of him after his release.
Assistant U.S. Attorney Tracy Hino withdrew an earlier request to have Endo detained without bail and did not oppose his release subject to a detainer by Immigration and Customs Enforcement.
Nakamura has owned Thom's Barber Shop at Ala Moana Center since 1965 and hired him more than 30 years ago. Her son, Dwight Nakamura, who took over operations in 1975, has said that they were aware of Endo's sexual abuse conviction in 1984 but that it never interfered with his performance at work.
Endo has stayed out of trouble for the last two decades until last year, when he went to register as a sex offender with the state. He allegedly represented that he was a U.S. citizen, when in fact he is a Japanese citizen who has been a lawful U.S. permanent resident alien since 1971.
Assistant federal defender Pamela Byrne said she will be working to get him released pending immigration proceedings.
HMA names Brady as top doctor
Dr. S. Kalani Brady has been named as the Hawaii Medical Association's 2007 Physician of the Year.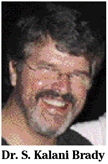 The award recognizes Brady's commitment to medicine and outstanding community service. It will be presented at HMA's annual medical ball, Ola Pono Ike, Sept. 15 at the Sheraton Waikiki.
Dr. Scott McCaffrey nominated Brady, an internist, as "a shining star within HMA's medical ohana and throughout the community."
Brady is an associate professor of native Hawaiian health at the University of Hawaii John A. Burns School of Medicine. He traces his roots to the Keli'ikanaka'oleaipolani family of Kauai and works to improve health care of Hawaiians. He goes to Molokai weekly to care for patients with Hansen's disease.
He shares his medical expertise with TV viewers as a volunteer for "Ask the Doctor" on KHON-2.
Brady also volunteers to help educate physicians as an HMA member, editor for the Hawaii Medical Journal and education co-chairman.
For more information or tickets to Ola Pono Ike (meaning "Health Is Knowledge"), visit www.hmaonline.net or call 536-7702 or toll-free (888) 536-2792.
| | |
| --- | --- |
| | Police, Fire, Courts |
---
NEIGHBOR ISLANDS
Underage driver dies after crash
KOLOA, Kauai » A 14-year-old Kapaa teen died yesterday after sustaining injuries in a traffic accident Thursday night.
The 14-year-old was driving two other teens -- a 16-year-old from Lihue and a 19-year-old from California -- in a Honda sedan on Koloa Road near the water tank at 10:05 p.m. Thursday.
Police said he lost control, skidded onto the shoulder and crashed into a tree.
The other two teens were taken to Wilcox Hospital; their conditions are unknown, county officials said.
The driver was airlifted to the Queen's Medical Center and died yesterday, officials added. Police are continuing their investigation.
In Hawaii a teen must be at least 15 1/2 years old to get a learner's permit to drive.
Woman found shot in Big Isle forest
Big Island police are investigating the shooting of a woman who was critically wounded yesterday in a Kau forest.
Workers from the Department of Water Supply reported finding the woman suffering from gunshot wounds in Waiohinu near Hao Springs Road.
Fire Department personnel took the victim to Kona Community Hospital by helicopter, where she was reported in critical condition.
Detectives from the Kona Criminal Investigations Section are investigating the case as an attempted murder.
Brush fire burns 600 acres
A brush fire on the Big Island charred 600 acres on the makai side of Highway 190 in Waikoloa and was still burning last night.
The fire, reported at 1:45 p.m. yesterday, was fanned by southwest winds of up to 20 mph, Hawaii Fire Department officials said.
Four bulldozers and helicopters were used to battle the blaze, while ground crews and volunteer and military firefighters also assisted in controlling the fire. No structures were threatened and the cause is under investigation.
HONOLULU
Arrested man falls from fleeing truck
Police arrested a 26-year-old man who fell out of the back of a pickup that allegedly was fleeing the scene of a theft.
Police said that at about 4:30 a.m. yesterday in Palolo, a man noticed an unfamiliar pickup truck parked next to his sister's car.
Police said the man saw the suspect removing property from his sister's car and putting it into the bed of the pickup.
The suspect hopped into the bed of the truck with the stolen items, and the pickup raced away, police said. As the truck drove away, the suspect fell out of the bed and onto the roadway.
He was held down by the witness until police arrived. Officers later found a tool used to fix dents in cars lodged in the ignition of the sister's car, police said.
Police then arrested the suspect on suspicion of attempted auto theft. Police have not yet found the pickup or its driver.
EAST OAHU
Red Cross worker beaten and held up
Police are looking for a man wanted for allegedly trying to rob the American Red Cross on Sunday.
At about 10:30 a.m. a 64-year-old female employee was alone at the Red Cross' testing facility at 4680 Kalanianaole Highway when the suspect entered and demanded money from the safe, police said.
The suspect held the woman for about 30 minutes as she tried to open the safe, according to police. Afterward the suspect grabbed a stapler, hit the victim on the head, punched her in the stomach and fled, police said.
The suspect is described as in his 30s with brown eyes and dark brown, wavy hair. He is about 5 feet 8 inches tall and weighs about 160 to 170 pounds.
He was wearing a white T-shirt with Blood Sport on the back, camouflage pants, and has a 1-inch tattoo of a cross on his neck. Anyone with information is asked to call CrimeStoppers at 955-8300.
Bat attack leads to man's arrest
Police arrested a 41-year-old man who allegedly struck his roommate with a bat.
At about 9:10 p.m. Thursday, an argument between the two Makiki roommates escalated when the suspect struck the 26-year-old man with a baseball bat. The victim suffered only minor injuries, police said.
The suspect was arrested on suspicion of second-degree assault.
Victim pushed down stairs
Police arrested a 36-year-old woman who allegedly pushed another woman down a flight of stairs this month.
Police said that at about 5:30 p.m. July 14, the suspect and a 51-year-old woman argued at a housing complex on Middle Street in Kalihi.
The suspect allegedly kicked the victim and pushed her down a flight of concrete stairs. The victim had lacerations to her head and upper lip, police said.
Police arrested the suspect yesterday on suspicion of second-degree assault.
LEEWARD OAHU
Man is arrested in firing of shotgun
Police arrested a 57-year-old man who allegedly fired a shotgun in Waianae.
Two men were sitting outside a Waianae home at 7:08 p.m. Wednesday talking and smoking cigarettes when the suspect, a neighbor, yelled at the men while carrying a shotgun, police said.
The suspect allegedly pointed the gun at the victims and fired a shot into the air.
Police arrested the man on suspicion of terroristic threatening and reckless endangerment.