| | |
| --- | --- |
| | Wood Craft |
---
Evelyn Choi, 70, gets to Vegas with help from ex-classmates
Cancer survivor
Evelyn Choi
, 70, attended her 1955 Pahala High class reunion in Las Vegas last month thanks to the generosity of her classmates.
Tom Sugita
was the driving force to raise funds so Evelyn, who lives in public housing, could make her first trip to Vegas, and only her second trip to the mainland.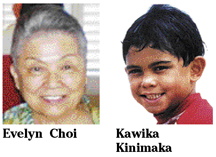 Tom informed California Hotel G.M.
David Lebby
about Evelyn and he provided her with a suite and a special dinner for two, all at no charge. What's more, Evelyn won $1,080 playing the slots. Evelyn's daughter,
Sandra Tokioka
, lives in San Francisco and drove to Vegas to join her. Evelyn said it was a wonderful trip and wishes to thank everyone who made it possible. Evelyn stands only 4 feet 9 -- "I used to be 4-11 but I shrunk 2 inches, you know" -- but she is big on courage. She has had brain cancer and an aneurysm. Her siblings, three sisters and three brothers, have or have had cancer. A brother and a sister have died ...
Gus Hannemann says temperatures up to 115 were too hot for him to golf but not for 187 other Samoans, including 82-year-old Pauline Young, who played in the 30th annual All Samoan tourney at Primm Valley course near Vegas July 17 to 19. Pauline shot in the 90s to take second in the women's division. Gus, the Hawaii Club prez, awarded Pauline with the grand prize, a Samoa-Hawaii round trip on Hawaiian Air, to loud cheers ... Top Hawaii artists are selling their pieces today from 10 a.m. to 4 p.m. at La Pietra, a benefit for the school. Artists include Hiroshi Tagami, Pegge Hopper, Michael Powell, Mapuana Schneider, Meleanna Meyer, John Koga and others. Anne Namba presents a fashion show at 12:30 p.m. ...
Eddie Kamae marks 80th birthday Aug. 7
Eddie Kamae
celebrates his 80th birthday Aug. 7 at the Elks Club, 5 to 7:30 p.m. He is sure to grab his uke and sing with
Mike Kaawa & Analu Aina
. A birthday toast is scheduled at 6:30 p.m. ... Singer
Kalani Kinimaka
is proud of his athletic grandson,
Kawika Kinimaka
, of the Lahaina Swim Club. Kawika is just 10 but he placed second in the age 17 and under category of the Steinlager Long Board standup paddle contest at Queen's Surf June 30. Kalani said Kawika is a distant relative of
Duke Kahanamoku
. He is the son of
Jon
and
Lawena Kinimaka
of Honokowai, Maui ...
Ben Wood
, who sold the Star-Bulletin in the streets of downtown Honolulu during World War II, writes of people, places and things in our Hawaii. E-mail him at
bwood@starbulletin.com