---
FAST FACTS HAWAII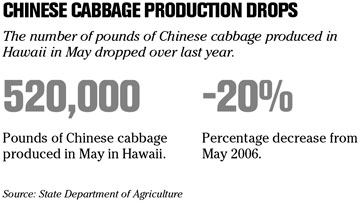 ---
Kaiser closing Mililani clinic
Kaiser Permanente Hawaii
is closing its Mililani clinic sometime this fall, after it failed to renew its lease on the property at the Town Center of Mililani.
The state's largest health maintenance organization, which has been restructuring operations since last year, said it was recently notified that its lease would not be renewed by landowner TIAA Realty Inc. of New York, said Kevin Imanaka, Kaiser spokesman. An exact closing date hasn't been determined.
The 16,500-square-foot clinic has about 50 employees, including eight physicians, all of whom will be moving to Kaiser's 87,000-square-foot Waipio clinic, retaining their existing patients.
The economies of scale that will be realized with the addition of staff at the Waipio clinic will allow Kaiser to expand hours to accommodate members.
Grace Pacific wins $25M contract
Honolulu-based
Grace Pacific Corp.
has won a five-year $25 million contract to conduct pavement work at several facilities owned by the Naval Facilities Engineering Command Hawaii.
The contract calls for Grace Pacific to provide all asphalt concrete work, including sidewalks and curbs, landscape services, and fences and gates by July 2012.
The company was one of two bidders on the contract, which consisted of 22 proposals. Grace Pacific also won the Navy's previous contract for pavement work five years ago.
Horizon matches fuel surcharge
Horizon Lines Inc.
is matching the record fuel surcharge that will be implemented by rival
Matson Navigation Co.
The state's second-largest ocean shipper said it will increase its fuel surcharge by 1.5 percent to 24 percent for its Hawaii and Guam routes, effective Aug. 20.
Last week, Matson said it would boost its fuel surcharge by a similar amount, effective Aug. 19.
The two ocean shippers usually follow one another with identical increases and decreases on fuel fees.
Horizon, like Matson, said the fuel surcharge adjustment was necessitated by another significant upward trend in fuel costs over the past few weeks.
[ HAWAII INC. ]
ELECTIONS
» Torkildson Katz Moore & Hetherington has named Newton
John Chu
as chairperson of the American Immigration Lawyers Association, Hawaii chapter. He currently serves at the firm's Hilo office and has practiced in the area for more than 25 years, focusing on immigration and employment compliance.
AWARDS / CERTIFICATIONS
» The Consulting Services Group of Morgan Stanley has announced
Jodi A. Lam
has completed the senior consultant training program conducted jointly by Morgan Stanley and The Wharton School. She is associate vice president and a wealth adviser with the company's global wealth management group office in Honolulu with more than eight years of experience as a wealth adviser.
» First American Foundation has awarded the Hawaii HomeOwnership Center $25,000 toward the center's efforts to increase home ownership for families and individuals on the Big Island.
---
BRIEF CASE
Ford rolling, but...
Ford surprised Wall Street yesterday by posting its first quarterly profit in two years. Then it spoiled the party by warning investors that it still expects big losses in the next two quarters and no return to full-year profitability until 2009.
Sony brightens: Sony said yesterday its April-June net profit more than doubled from a year ago on solid sales of flat-panel TVs, digital cameras and video camcorders. But the company said its game operations were still in the red because of strategic pricing of the PlayStation 3.
---
BUSINESS PULSE