---
FAST FACTS HAWAII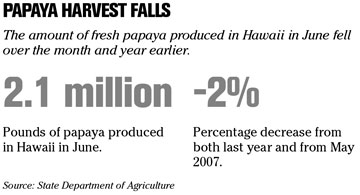 ---
Sheraton Kauai workers to rally
Members of Unite Here Local 5 at the Sheraton Kauai are planning their first labor rally in more than 17 years this evening.
Union negotiators say they are seeking the same contracts for the workers at Sheraton's Maui and Kauai hotels as those ironed out last year for Waikiki workers with owner Starwood Hotels & Resorts Worldwide Inc. Starwood representatives could not be reached for comment yesterday.
Negotiations for the 300 Sheraton Maui workers, whose contract expired June 30, have been ongoing, while negotiations for the 270 Sheraton workers on Kauai are scheduled to begin on Aug. 1. Their contract expires Aug. 31.
CPB parent plans stock buyback
Central Pacific Financial Corp.
said yesterday it is increasing its dividend 4.2 percent to 25 cents a share and authorizing a new stock repurchase program to buy back up to 1.5 million shares.
The stock repurchase authorization, which represents about 4.9 percent of the bank's outstanding common stock, and will be made through the open market and privately negotiated transactions, the bank said.
"With the stock at a very attractive level, we'll be able to take advantage of the current market opportunities in our stock to enhance shareholder value," Chief Financial Officer Dean Hirata said.
The parent of Central Pacific Bank said yesterday its new quarterly dividend -- which would equate to a 3.4 percent annual yield based on yesterday's closing price -- will be payable Sept. 21 to shareholders of record as of Aug. 17. The previous dividend was 24 cents a share.
[ HAWAII INC. ]
NEW HIRES / PROMOTIONS
» Kober Hanssen Mitchell Architects has named
Jennifer Yamauchi
as principal. She has extensive experience in school, retail, residential and church design with projects including the Institute for Astronomy on Maui, Waipahu Town Center and International Market Place.
» MADD-Hawaii has promoted Leah Marx to executive director from court monitor program specialist. She will be responsible for development, management and implementation of all program initiatives and managing employees and volunteers. She previously served as a social worker for numerous human service agencies, including child protection, special needs adoptions and children with autism.
» Bright Light Marketing Group has named Pepi Nieva as vice president of public relations. She will be responsible for strategic growth, mentoring and staff development. She previously worked at Hawaiian Electric Co. and has more than 30 years of experience in corporate communications, advertising, marketing, issues and crisis management, and editorial and publication production.
» The Harris Agency has announced the following new hire and promotions: Katie Gallo has been promoted to account executive. She will be responsible for clients including Pacific LightNet and Hilo Hattie stores in Hawaii and on the mainland. She has eight years of marketing and advertising experience. Kathleen Herbst has been hired as media director. She previously served as marketing manager for the Honolulu Star Bulletin and has extensive experience in the Honolulu advertising community. John Zablan has been promoted to account executive. He will be responsible for the Burger King Hawaii account team and has served the firm for two years.
BOARD ELECTIONS
» The Rotary Club of Ala Moana has elected
Dave Berry
as president for the 2007-2008 term. He is a retired travel and hospitality industry executive and Rotarian for 31 years. He will head the leadership team consisting of
Richard Kagehiro
, president-elect;
Kevin McCrary
, secretary;
Greg Concilla
, treasurer and
Steve Voight
, sergeant-at-arms.
» The Hawaii Foodbank has elected Mary Sellers to its board. She currently serves as vice chairman and chief risk officer at Bank of Hawaii and will serve a three-year term on the board.
» The Hawaii Society of Corporate Planners has announced its directors for 2007-2008: Officers are Lou Darnell, president; Lisa Maruyama, president elect; Diane Shigeta, treasurer; John Ellis, co-treasurer; Kevin Sakamoto, secretary; Biz Kellam, membership vice president; Jane Brown and Gail Fujita, luncheon program co-vice presidents; Susan Fox-Wolfgramm, university relations vice president; Diane Peters-Nguyen, communications vice president; Patti Fukada, boardroom series chair; Sandra Ohara, sponsorship chair; and Tomma Irvine, special sessions and past president. New board members are Lulani Arquette, William Breeden, Naile Brennan, David Bylund, Michael Chong, Michael Herb, Nada Kegley, Pete Martinez, Frances Mossman, Vickie Omura and Marlene Zeug.
---
BRIEF CASE
Running dry:
ConocoPhillips said yesterday its second-quarter profit dropped 94 percent as the nation's third-largest oil company incurred a $4.5 billion charged related to its assets in Venezuela, where it has abandoned its heavy oil projects.
Food fight: ConAgra Foods Inc. will pay a $45 million civil fine as part of a settlement with federal regulators who accused the company of using improper accounting to help it meet Wall Street expectations, a company spokeswoman said yesterday.
Fueling profit: Honda Motor Co., maker of the Civic, Accord and Odyssey vehicles, reported a 16 percent increase in profit for the April-June quarter on strong global demand for fuel-efficient cars.
---
BUSINESS PULSE