---
FAST FACTS HAWAII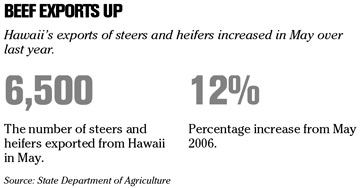 ---
Target to anchor Big Isle mall
The
MacNaughton Group
said yesterday that a
Target Inc.
store is expected to anchor its Kona Commons regional open-air mall, which is being developed in partnership with the
Kobayashi Group
.
The Minneapolis-based Target expects to open its first Hawaii stores, in Salt Lake and Kapolei, in March 2009. The Big Island Target store is scheduled to open in July 2009, in the second phase of Kona Commons.
Kona Commons is expected to open in two phases, and include several other national retailers. Phase I is scheduled to open in June 2008.
[ HAWAII INC. ]
NEW HIRES / PROMOTIONS
» Wailea Beach Marriott Resort & Spa has named
Sharon Klaschka
as director of sales and marketing. She will be responsible for directing the resort's sales, marketing, adver- tising and public relations. She previously served as director of sales for the Kahala Hotel and Resort and as director of leisure sales for the Fairmont Kea Lani at Wailea for 13 years.
» Hilton Waikoloa Village has named Jennifer Bolstad as director of revenue management. She will handle capacity thresholds, forecasting, group maintenance and distribution channel database integrity. She previously served as assistant director of the Revenue Management Consolidated Hotel Center at Hilton Hotels Corp. in Dallas and has more than nine years of revenue management experience in the hospitality industry.
» Hawaiian Electric Industries has announced the following new hires: Chet Richardson has been hired as vice president of general counsel effective August 6. He will be responsible for ensuring compliance and coordinating legal work for all HEI companies. He currently serves as deputy general counsel for Alliant Energy in Wisconsin. David Kostecki has been hired as internal auditor effective July 15 and currently serves as internal auditor for Hawaiian Electric Co. and senior vice president of internal audit at American Savings Bank. He previously served as principal at Accuity and at PricewaterhouseCoopers in Hawaii, Los Angeles and Washington D.C.
» Belt Collins Hawaii has announced the following new hires: Jacroux Biggs has been hired as geographic information systems project manager. She previously served as a geographic information systems specialist and planner for the Onyx Group and is an active member of the Hawaii Geographic Information Coordinating Council. Michel Le has been hired as a graphic design manager. He will be responsible for the designing the company's corporate branding and collateral. He previously served as an art director at Ostrander-Chu and has 20 years of illustration and graphic design experience.
» Mountain-Pacific Quality Health has named Benton Sen as communications director. He will be responsible for developing communication and marketing strategies for work with healthcare providers, community partners, media and Medicare beneficiaries. He has written for Spirit of Aloha and Hawaii Home + Remodeling magazines and served as an advertising copywriter for Marriott Hawaii and Prince Resorts.
» Ameron Hawaii has promoted Eric Y. Shimabukuro to sales manager from general superintendent of the Ready Mix department. He will be responsible for concrete and aggregate sales on Oahu. He has served the company since 1981.
» Goodsill Anderson Quinn & Stifel has hired Laura J. Cutler for the firm's real estate group. She will focus on real estate and construction, business and commercial transactions. She previously served as in-house general counsel for the Danco Group in California.
---
McDonald's posts unusual net loss
CHICAGO » A massive one-time charge dragged down
McDonald's Corp.
second-quarter results yesterday as the fast food chain lost $711.7 million -- only its second quarterly loss ever.
Excluding the $1.6 billion charge relating to the sale of some Latin American and Caribbean operations, the world's largest restaurant company said its net income grew 4 percent to $869.9 million, or 71 cents per share.
For the quarter ending June 30, the world's largest restaurant chain said its net income swung to a loss of 60 cents per share. That's compared to a second-quarter profit of $834.1 million, or 67 cents per share, a year earlier.
Netflix site down for 20 hours
LOS GATOS, Calif. »
Netflix Inc.
's Web site was out of service for almost 20 hours, leaving Internet customers without access to movie-rental provider for the longest stretch in the nine-year-old company's history.
The shares fell 6.9 percent after the company also reduced its profit forecast late yesterday.
The Internet site went down last night because of a "database issue" and resumed operations at about 6 p.m. New York time, said Steve Swasey, a Netflix spokesman. He declined to disclose details of the problem.
Amazon quarterly profit triples
SEATTLE »
Amazon.com Inc.
's second-quarter profit more than tripled, boosted by strong sales of books, music and electronics worldwide. The Web retailer's stock soared 11.3 percent in after-hours trading.
Earnings for the three months ended June 30 climbed to $78 million, or 19 cents per share, from $22 million, or 5 cents per share during the same period last year, the company said yesterday.
BRIEF CASE
Counterfeit catch:
The U.S. Federal Bureau of Investigation said yesterday that a joint effort with Chinese authorities led to the arrest of 25 people and the seizure of over $500 million worth of counterfeit Microsoft and Symantec software that was being manufactured in China and distributed worldwide.
Far from flat: PepsiCo Inc., the world's second-largest soft drink maker, said yesterday its second-quarter profit rose 13 percent on the strength of sales in its international and Frito-Lay units, and raised its full-year earnings outlook.
Defense boost: Lockheed Martin Corp., the world's largest defense contractor, said yesterday that second-quarter earnings rose 34 percent on higher sales in most of its businesses, including fighter jets, missile defense and information technology.
---
BUSINESS PULSE