---
FAST FACTS HAWAII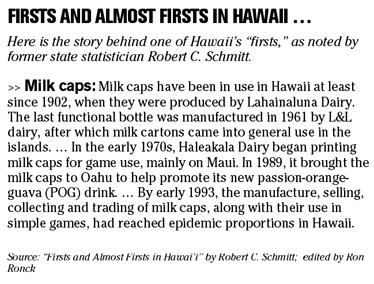 ---
NATION
Deez guys like spock you out
SAN FRANCISCO » A search engine startup promises to deliver more targeted results on queries about people, whether it's your ex-girlfriend, the guy from the bar last night, or Paris Hilton.
The idea is to help you avoid sorting through the thousands of results -- the vast majority likely to be irrelevant Web pages -- delivered by the major Internet search companies.
Menlo Park-based Spock Inc. scours sites such as News Corp.'s MySpace, Wikipedia, LinkedIn and Yahoo Inc.'s Flickr and compiles biographies of real people -- alive, dead, famous or obscure, from New York to New Delhi.
Results often include an individual's photo, age, job title, political or religious affiliations, and research papers or articles written. Members contribute such information about themselves or others, similar to Wikipedia's model of letting anyone contribute to the online encyclopedia regardless of expertise.
Spock is gaining 30,000 new members per week in an invitation-only test mode. It will launch within a month with a searchable database of 100 million people.
Summer is good time to seek job
When it comes to job searching this summer, let everyone else take a vacation. Many job-seekers wait until after Labor Day to shift their search into high gear, but the lazy days of summer are a prime time to get a jump on the competition.
Companies continue to hire during the summer months, and job recruiters rarely take more than a week or two off for vacation, according to Lauryn Franzoni, vice president of executive recruiting network ExecuNet.
"All of us tend to think, 'It's summer, I want to relax. And so everybody else must want to relax,"' she said.
First, consider your goals and evaluate the progress you've made over the first half of the year, Franzoni said. Then, start networking, preferably in the morning hours. People tend to arrive at the office earlier during the summer, both to beat the heat and to get out in time to enjoy the afternoon, she said.
Flexible summer schedules can also mean colleagues or clients will have more time to chat with you or conduct informational interviews, Franzoni said.
If you do land a job interview, trade in your dark, wool suit for something lighter, Franzoni said. You have enough to sweat about as it is.
Commuting is soothing for some
Commuting is widely accepted as an anxiety-inducing annoyance, a twice-daily test of our patience and tolerance for our fellow man. New research, however, suggests that for some people, commuting can calm the nerves.
Commuters were actually less physiologically stressed after their drive to work than before, according to research performed at Agnes Scott College in Atlanta, where the average commute rivals that of any city in the nation.
Researchers measured cortisol, a hormone used to measure stress, in the saliva of 12 Agnes staff members. Saliva was collected before, immediately after and one hour following the commute.
While some commuters are more anxious and irritable after their drive, some enjoy the private time and use it to prepare for the workday ahead or unwind after a long day, the preliminary research suggests.
How to find a 'Mom-mobile'
Looking for a new car that could accommodate her busy preschool car pool, Kristin Varela scoured every automotive Web site she could find. But information about whether she could fit three child safety seats into the back seat of a car was scarce. So the mother of two in 2004 launched MotherProof.com, a Web site that describes itself as "on a never- ending quest for the quintessential Mom-mobile."
Reviews on the site take into consideration practical elements, such as how the cars stand up to grocery runs and baby vomit, but they're not limited to minivans. Case in point: A review of the 2008 Mercedes-Benz C-Class led the Web site last week.
Now, MotherProof.com has access to a bigger audience. Last month, Cars.com, which has more than 9 million visitors each month, added the site as a featured channel. Cars.com managing editor Patrick Olsen said MotherProof.com offers "a key segment of car shoppers expert advice from mom reviewers who have walked in their shoes and driven a car in the same way they will."
---
BUSINESS PULSE