| | |
| --- | --- |
| | Newswatch |
---
PLEASE ABIDE, MOVE ASIDE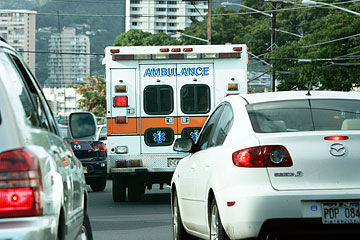 Cosme brings rain to Big Island
Tropical Depression Cosme did little besides bring some welcome rain to a parched Big Island.
Cosme, which was downgraded from a hurricane last week, made its closest point of approach to the state at about 8 p.m. Friday, with winds up to 40 mph. The National Weather Service said the Big Island saw between 4 to 6 inches of rain in certain parts, with Hakalau seeing up to 6.77 inches of rain.
The rainfall was needed, said Wes Browning, director of operations for the National Weather Service in Honolulu. "We've had a pretty severe drought," he said. "Some areas have only received about 20 percent of normal yearly rainfall."
Hawaii County police and fire departments said there were no reports of flooding or other weather-related incidents. The island's flash flood watch was canceled at 4 p.m. yesterday.
"The core of the system never moved anywhere close to the island. It was just the peripheral bands of showers," Browning said.
A high surf advisory for the windward shores of Kauai, Oahu, Molokai, Maui and the Big Island was expected to be lifted by noon today.
Today's weather was forecast to be partly cloudy and breezy with isolated showers, said National Weather Service meteorologist Vladimir Ryshko.
Senate panel OKs farm funds
A measure containing nearly $22 million for Hawaii-related agricultural projects was approved by the U.S. Senate Appropriations Committee.
U.S. Sen. Daniel Inouye said he was especially pleased with the continued support of the U.S. Pacific Basin Agriculture Research Center in Hilo.
The Department of Agriculture Appropriations Bill contains $2.5 million for a portion of the center's second phase of construction and more than $7.1 million for research.
The bill also contains $1.6 million for a grant program to strengthen educational activities at universities and colleges with students of Native Hawaiian and Alaska Native ancestry.
Another program would receive $1.3 million to continue the State Wildlife Services Office in Hawaii. It provides onsite coordination of activities to control pests and diseases in Hawaii and the American Pacific, including efforts to control the brown tree snake and the coqui frog.
The legislation now goes to the full Senate for consideration.
Superferry hosts second preview
The public will get a second chance on Saturday to check out the Hawaii Superferry before it begins regular service between Honolulu, Maui and Kauai.
All the spots were filled for last weekend's preview. The ferry Alakai is docked at the Honolulu Ferry Terminal at Pier 19.
Because of harbor security, people interested in seeing the vessel need to register in advance at www.hawaiisuperferry.com and must provide the names of all persons in their party. Name changes or additions will not be permitted Saturday.
A complimentary shuttle service will be provided from 9:30 a.m. to 4:30 p.m. every 15 minutes from Topa Financial Center Towers at 700 Bishop St. and Harbor Square on 700 Richards St. Parking costs $5. No parking is available at Pier 19 except for handicapped parking.
For more information, call 877-HI-FERRY (877-443-3779).
| | |
| --- | --- |
| | Police, Fire, Courts |
---
Police seek driver in fatal crash on Big Island
Big Island police are looking for a driver of a 2000 Jeep Cherokee that crashed in Honaunau, killing a Honokaa man Friday afternoon.
The driver fled from the scene after the crash on Route 11 near the 99-mile marker, police said. The vehicle ran off the right shoulder of the roadway, striking an embankment and flipping over.
Police believe speed and alcohol were factors in the crash.
The passenger, identified as Jules Angain, 33, of Honokaa, was taken to the Kona Community Hospital and died at 7:40 p.m., police said.
Traffic officers have launched a negligent homicide investigation.
Anyone with information is asked to call Officer Marvin Troutman at (808) 326-4646, ext. 229, or acting Sgt. Wendall Carter at (808) 961-2332. This is the 19th traffic fatality on the Big Island, compared with 18 this time last year.
LEEWARD OAHU
HFD crews douse 2 small brush fires
Firefighters extinguished two small brush fires yesterday.
A 5- to 10-acre brush fire near Makua Cave started about 9:30 a.m. Five fire trucks and a helicopter responded, extinguishing the blaze by noon, said Honolulu Fire Department spokesman Capt. James Todd.
At about 3:50 p.m., firefighters responded to a brush fire, less than an acre in size, at the end of Kalaeloa Boulevard near Campbell Industrial Park. Two fire trucks stayed until 5 p.m., putting out hot spots.