---
FAST FACTS HAWAII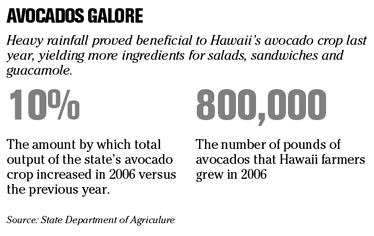 ---
HAWAII
New Molokai service starts
Go!Express began service to Molokai yesterday with all 54 of its seats between Honolulu and the Friendly Isle selling out.
Mokulele Airlines, which operates go!Express under a code-share agreement with Mesa Air Group's go!, now offers three round-trip flights aboard the second of its recently acquired nine-seat turboprop Cessna Grand Caravans. In April it began offering service between Kapalua, Maui, and Honolulu.
Go!Express will begin daily service between Honolulu and Lanai in October, as well as add three more daily flights between Molokai and Honolulu, and two more daily flights between Kapalua and Honolulu.
Nasdaq warns Cyanotech again
Cyanotech Corp.
, plagued by late filings due to an internal inventory accounting probe, received another noncompliance delisting notice from the Nasdaq Stock Market for missing both the deadline and the extension to file its fiscal 2007 year-end financial statement for the period ended March 31.
Nasdaq notified Cyanotech, a Big Island producer of nutritional products from microalgae, that the company's stock is subject to suspension of trading on Thursday unless an appeal is filed, which the company did yesterday.
Cyanotech received similar delisting notices from Nasdaq both earlier this year and last year.
NATION
SoCal port talks continue
LOS ANGELES » Negotiations between office workers and shipping companies at the nation's largest port complex were expected to stretch into the weekend.
A new proposal by the clerical workers was to be their "last, best and final" offer, said Bill Orton, a spokesman for the International Longshore Warehouse Union's Office Clerical Unit, Local 63.
Steve Berry, lead negotiator for the shipping companies, said yesterday he was optimistic a work stoppage won't occur.
A strike would effectively shut down loading and unloading at the ports of Los Angeles and Long Beach.
Chrysler labor talks open
AUBURN HILLS, Mich. » It was all handshakes and smiles yesterday as the United Auto Workers formally opened contract talks with
Chrysler Group
, and while both sides were cordial, it didn't take long for their differences to surface.
UAW President Ron Gettelfinger, while repeatedly refusing to answer specific questions about bargaining strategy, told reporters that the union already has done a lot to make the Detroit Three more competitive.
He cited health care concessions for General Motors Corp. and Ford Motor Co. and approval of buyout and early retirement packages that let all three companies reduce their work forces.
---
BUSINESS PULSE