| | |
| --- | --- |
| | Island Mele |
---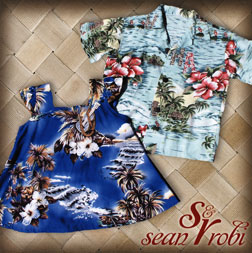 S & R
Sean & Robit
(Poi Pounder Records - PPRCD 8600)
It's been several years since Hawaii last had a male/female vocal duo as prominent recording artists. Sean Na'auao and Robi Kahakalau put in their bid for that vacant niche with this collection of 13 songs, four presented in medleys, that show them off as a duo and also as soloists.
In the most effective collaborations they share the vocal spotlight as equal partners. "Ka Manu," " 'Anapau," "Mele O Kaho'olawe" and a hapa haole medley ( "Hula Lady"/ "Honolulu I am Coming Back Again") are the best examples.
It isn't that they're not also strong as soloists. Na'auao does a beautiful job on "Hi'ilawe" and "Na Pali Alo Lua," for instance, but in these days of studio overdubs and multitracking it's hard to tell who might be in there harmonizing behind the primary vocal track.
Na'auao, who is both producer and executive producer of the project, reaffirms his commitment to nationalist causes by including "Mele O Kaho'olawe" and providing the English translation in the liner notes.
The duo falls short in artistic terms doing "Where is the Love" as a straight remake of the 1972 Roberta Flack/Donnie Hathaway hit. They offer no new ideas, although the familiar arrangement shows off their commercial pop potential.
The nadir is reached with an unlisted final track, a generic Jawaiian version of "We've Got Tonight" culled from a compilation album released in 2004 by another record label. Been there, done that, don't need to go back!
The two pop songs are out of place on an album of Hawaiian and old-style hapa haole melodies, but they do suggest the duo's broader musical horizons.
---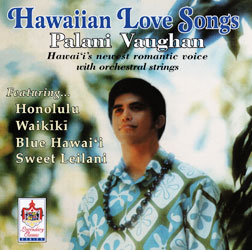 Hawaiian Love Songs
Palani Vaughan
(Hula Records - CDHS-535)
It takes nothing away from Jon de Mello's unprecedented commercial success in adding orchestral arrangements to vintage recordings by the late Israel Kamakawiwo'ole to recall those who pioneered the recording of Hawaiian and hapa haole music as symphonic pop.
There's Jon's father, Jack de Mello, who recorded Emma Veary "live" with a full orchestra in London, and there's Don McDiarmid Jr., who enlisted arranger/conductor Seiji Hiraoka to create this beautiful collection of recordings by Palani Vaughan.
McDiarmid introduced Vaughan as a recording artist with the Sunday Manoa in 1967. This album, released in 1970, positioned him as the likely successor to the late Alfred Apaka as the romantic golden voice of Hawaii.
But Vaughan chose to put his personal commitment to honoring the legacy of King Kalakaua ahead of commercial success. The experiment with Hiraoka was not repeated, so this long out-of-print album is a significant reissue.
A majority of the selections are hugely popular hapa haole standards -- "Waikiki," "South Sea Island Magic" and "Sweet Leilani," to name three. Vaughan does a wondrous job with all of them.
Two other selections stand out. "My Little Grass Shack" is reworked as a laid-back ballad rather than an up-tempo hula number. "Kaua I Ka Huahau'i" ("Hawaiian War Chant") is performed as a seductive Hawaiian love song -- except for the bridge, where Hiraoka interjected a jazzed-up 20th century arrangement.
---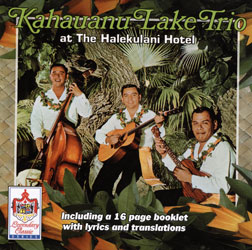 Kahauanu Lake Trio at The Halekulani Hotel
Kahauanu Lake Trio
(Hula Records - CDHS-511)
Kahauanu Lake and his trio have such an important place in 20th century Hawaiian music that the reissue of their second album is welcome, even though some of the songs are available on "Best of" discs released in the early '90s.
The distinctive sound of the trio -- their beautiful vocal harmonies and Lake's innovative arrangements -- is captured perfectly from the first notes of "Pua Lililehua" through the final medley.
A newly recorded bonus track brings the traditions of the K-Lake Trio forward a generation with a performance by Lake's protégé, Walter Kawai'ae'a.
John Berger
, who has covered the local entertainment scene since 1972, writes reviews of recordings produced by Hawaii artists. See the Star-Bulletin's Today section on Fridays for the latest reviews. Reach John Berger at
jberger@starbulletin.com
.