---
FAST FACTS HAWAII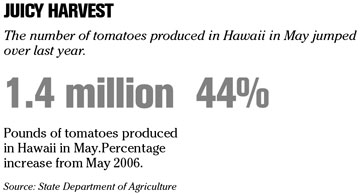 ---
Kohala developer adds new partner
The developer of a $1 billion mixed-use golf course resort community on 1,200 acres of the Big Island's Kohala Coast has brought in a new venture partner.
Bridge Aina Le'a LLC yesterday announced a joint venture partnership with DW Aina Le'a Development LLC for the Villages of Aina Le'a, which will include about 2,500 luxury home sites, a golf course, shopping center, resort condominiums, luxury lodge and hotel. The developer has also agreed to provide 385 units of affordable housing.
John Baldwin, CEO of Bridge Aina Le'a, said the partnership with DW brings additional capital and experience in developing the infrastructure of the project.
Steve Dunnington, a partner of DW, will take over on-site management this month.
Developers had previously partnered with Cole Capital/Westwood Development Group, which dropped out of the deal.
DTRIC offering new coverage
DTRIC Insurance has launched a new commercial insurance line in Hawaii.
DTRIC Insurance Underwriters Ltd. has received approval from the state to expand DTRIC's direct commercial lines business, which include property, umbrella, commercial auto, general liability and package coverage for mid-sized businesses, according to the state Insurance Division.
The company will target businesses that generate at least $5 million in annual revenue and have a minimum of 10 employees.
---
Port clerks' labor talks resume
LONG BEACH, Calif. » Clerical workers and shipping companies at the nation's largest port complex resumed contract talks yesterday, with negotiators looking to resolve several key issues and end the prospect of a costly strike.
Issues yet to be resolved involve wages, job security and pension benefits, said John Fageaux Jr., head of Local 63 of the Office Clerical Unit of the International Longshore Warehouse Union. He was hopeful progress could be made.
"We're moving forward, not backward," said Steve Berry, lead negotiator for port employers.
[ HAWAII INC. ]
NEW HIRES / PROMOTIONS
» Central Pacific Bank has announced the following new hires:
Judith A. Villarreal
has been hired as senior vice president and director of corporate compliance. She previously served as general counsel and chief compliance officer for Leonard & Co. in Troy, Michigan.
Gloria T. Chen
has been hired as vice president and internal control audit manager. She previously served as chief financial officer at CTA Inc. and managed the business process outsourcing division at Arthur Andersen for 11 years.
Michael K. Shibata
has been hired as vice president and business continuity manager. He previously served as a senior copnsultant with Deloitte & Touche LLP.
Patty Foley
has been hired as vice president and assistant human resources director. She previously served as corporate director of Outrigger Hotels & Resorts' human resources service center.
Carrie Brown
has been hired as vice president and business product manager. She previously served as vice president and manager of business products for Bank of Hawaii.
BOARD ELECTIONS
» Hawaii Capital Cultural District has announced the following new board members:
Ann Chung
, director of economic development for the City & County of Honolulu;
Kyle Paredes
, general manager of First Hawaiian Bank's corporate health and fitness program and centers;
Lulani Arquette
, executive director of the Native Hawaiian Hospitality Association; and
Susan Todani
, director of special projects for Kamehameha Schools.
» The Hawaii Economic Association has elected Margaret Murchie to its 2007 board of directors. She is a certified residential specialist and licensed relator since 1978. The organization serves as the Hawaii chapter for the National Association for Business Economics.
» The American Marketing Association, Hawaii chapter, has elected Bob Peterson as president. He is the Oahu branch manager for GP Roadway Solutions, a division of Grace Pacific Construction.
» The American Liver Foundation Hawaii chapter has announced three new directors and election to its board: Dr. Christopher-Allan Lum, surgical pathologist with Hawaii Pathologists' Laboratory; Stan Masamitsu, president of the Tony Group; and Sandra Ohara, director of corporate accounts and government contracts for Adecco Hawaii. Bank of Hawaii executive vice president Lee Moriwaki has been elected as board secretary. He replaces Jared Kawashima.
---
BRIEF CASE
Stern notice:
Bear Stearns Cos. told investors in its two failed hedge funds that they'll get little if any money back after "unprecedented declines" in the value of securities used to bet on subprime mortgages. Bear Stearns had provided one of the funds with $1.6 billion of emergency funding last month.
Quake halts production: Toyota Motor Corp., Nissan Motor Co., Mitsubishi Motors Corp., Fuji Heavy Industries and Suzuki Motor Corp. said yesterday that they would stop production for a few days in Japan until a Riken Corp. parts plant at Kashiwazaki city, damaged in Monday's earthquake, comes back on line.
---
BUSINESS PULSE