---
FAST FACTS HAWAII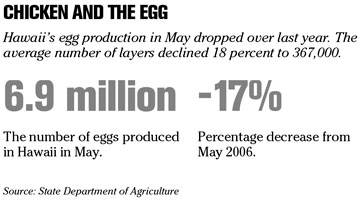 ---
A&B's Keola La'i tops off
Keola La'i, the 43-story condominium at 600 Queen St. by A&B Kakaako LLC, was topped off last week.
A&B Kakaako, a subsidiary of Alexander & Baldwin Inc., broke ground for the project in early 2006, and expects to complete it in early 2008.
Only about 10 percent of the 352 one- to three-bedroom units remain available for sale.
Like several other high-rise condominiums recently developed in the area, the developer marketed the short commute and proximity to downtown Honolulu as well as the building's own amenities.
Keola La'i will also feature some street-level storefront space on the ground floor.
DHX buys Guam building
DHX-Dependable Hawaiian Express
, a freight forwarding operation, has closed a deal to buy an 18,000-square-foot warehouse and office building in Guam.
The purchase price wasn't disclosed. The California-based freight forwarder acquired the facility in Agana's commercial center because of rapidly expanding operations between the mainland and Guam.
The island has become popular among Japanese honeymooners with hotels, restaurants and shops catering to that trade. In addition, military activities also are expanding with the U.S. Air Force planning to move its main western Pacific operations from Okinawa to Guam, said Brad Dechter, president of DHX.
"While Guam is a much smaller market than Hawaii, it is growing at a much faster rate" he said.
[ HAWAII INC. ]
NEW HIRES / PROMOTIONS
» A&B Properties has promoted
Lance K. Parker
to vice president of acquisitions and investments from director of acquisitions. He will be responsible for implementing strategic acquisitions and growth initiatives. He has served the company since 2004.
» The Sheraton Maui Resort has hired Kristen Vines as director of sales and marketing. She replaces Paula Dirks. She previously served as account director for the Princeville Resort and has been with Starwood Hotels for six years.
» American Savings Bank has announed the following new hire and promotions: Timothy Schools has been hired as senior executive vice president and chief operating officer. He previously served as executive vice president and chief financial officer for The South Financial Group in South Carolina. David Todani has been promoted to executive vice president of lending from senior vice president of treasury. He has served the bank since 2000. Kevin Haseyama has been promoted to senior vice president of treasury from vice president and financial risk manager. He has served the bank since 2001.
» Bank of Hawaii has promoted Donovan R.G. Koki to senior vice president from vice president of the commercial credit analysis and underwriting department. He previously served as credit quality officer for City Bank and has more than 23 years of banking and lending experience in both Hawaii and the mainland.
» Outrigger Enterprises Group has promoted Arhlene Honda to vice president of sales from corporate director of sales. She will continue to oversee all aspects of the company's sales efforts. She has served the company since 1978.
» AIG Hawaii has hired Stephanie Tom as director of human resources and administration. She replaces AIG vice president Doris Ohara, who is retiring. She previously served as vice president of human resources and administrative services for Finance Enterprises and Finance Factors for more than 10 years.
» First Hawaiian Bank has announced the following new hires and promotions: John Dickinson has been hired as an assistant vice president and personal banking officer at the Kapiolani Banking Center. He will oversee the small business team and has more than 16 years of banking experience. Emi C. Kanai has been hired as a SOX compliance and accounting policy manager. She previously served as an ABAS associate at PricewaterhouseCoopers. Elroy K. Abe has been promoted to personal banking officer and sales manager at the Waikiki branch. He joined the bank's car services division in 2006 as a commercial card relationship manager. Scott H. Ono has been hired as trust real estate officer. He previously served as vice president of operations and business development at Hawaiian Building Maintenance and has more than 12 years of experience in commercial real estate. Cindy K. Ing has been promoted to marketing officer in the bank's marketing communications division. She will be responsible for producing special events and creating marketing collateral.
---
BUSINESS PULSE