---
FAST FACTS HAWAII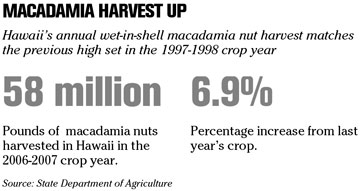 ---
Cyanotech needs still more time
Cyanotech Corp.
said yesterday it needs additional time beyond its original extension to file its fiscal year-end financial report with the Securities and Exchange Commission.
The Kona-based producer of nutritional products from microalgae said it is continuing to work with accountant KPMG "to resolve possibly material non-cash technical accounting matters."
Cyanotech, which filed for a 15-day extension on June 29, said it believes it should be able to file its year-end report, or Form 10-K, by July 30.
Cyanotech has been plagued with delayed filings throughout its fiscal year due to an internal accounting probe. Last month, Cyanotech said in filing for an extension that its net loss in its fiscal year ended March 31 widened to at least $2.9 million from $391,000 a year earlier and its revenue fell nearly 13 percent to $9.7 million from $11.1 million.
---
Charges dropped in KPMG case
NEW YORK » A federal judge dismissed charges yesterday against 13 former
KPMG
employees in what the government had described as the largest criminal tax case in U.S. history, saying the prosecutors prevented them from presenting their defenses.
U.S. District Judge Lewis A. Kaplan said the dismissal was necessary because the government coerced KPMG to limit and then cut off its payment of the one-time employees' legal fees.
The case resulted after the government investigated what it described as a tax shelter fraud that helped the wealthy escape $2.5 billion in U.S. taxes.
SEC checks CEO's postings
WASHINGTON » Federal regulators have undertaken an informal investigation in the anonymous online postings of John Mackey, the chief executive of
Whole Foods Market Inc.
, some of which denigrated a smaller rival grocery chain and that raise novel questions for securities watchdogs.
Mackey's postings over seven years on Internet financial forums, cloaked under the name "rahodeb," at times attacked Wild Oats Markets Inc., calling its stock overpriced and predicting it would fall into bankruptcy and then be sold after its shares dipped below $5. Whole Foods announced in February that it would buy Wild Oats for around $565 million, or $18.50 a share.
Briefcase
Loss amid gains:
McDonald's Corp. said yesterday it expects to post its second quarterly loss in more than 50 years because of a hefty one-time charge on the sale of some Latin American operations. But the chain said its ongoing business is growing, with same-store sales up 7.4 percent in the second quarter.
Hunter may be hunted: Anglo-Australian mining giant BHP Billiton will decide whether to bid for U.S.-based aluminum company Alcoa Inc. within two weeks. Alcoa withdrew its own hostile takeover bid for Canadian competitor Alcan Inc. after mining giant Rio Tinto made a higher bid.
One head at Airbus: European Aeronautic Defence & Space Co. ended seven years of political infighting that has led to the crises plaguing its Airbus subsidiary. Louis Gallois, a 63-year-old French national, will become EADS's sole chief executive officer.
---
BUSINESS PULSE