Transpac sails minus 1
Roy E. Disney cedes skippering duties on Pyewacket to his son
STORY SUMMARY »
After years of dreaming and months of planning, Roy E. Disney abruptly left the crew of the yacht Pyewacket yesterday as the last of the race boats sailed from California for Honolulu.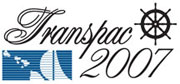 Disney had hoped to reclaim his record for fastest Transpac finish aboard the radically modified Pyewacket, which instead crossed the starting line with his son, Roy P. Disney, as co-skipper.
Disney, 77, will fly to Hawaii tomorrow to await the arrival of Pyewacket and a second boat, Morning Light, the subject of a Disney documentary.
STAR-BULLETIN
---
FULL STORY »
And they're off.
The last of the Transpac yachts got underway yesterday -- minus the guy who had generated the most buzz this season, Roy E. Disney.
"I just decided to let the younger guys do it," said Disney, 77, in a Transpac news release.
This would have been the 16th Transpac for Disney, who had hoped to reclaim the record for fastest finish aboard a modified Pyewacket, named for the cat in the 1958 movie "Bell, Book and Candle."
Another movie has been on Disney's mind, however: a documentary about the young crew of another boat in the race, Morning Light, which also set sail yesterday.
Disney said he was concerned that his attention was divided between the two boats.
"I've been apprehensive about it," he said. "And when you're worried, maybe it's not a smart thing to do."
Filling in as co-skipper will be Disney's son, Roy P. Disney, who performed a similar role in 1997, when his dad recovered from a broken leg.
Aboard an earlier Pyewacket that year, the younger Disney set a Transpac record, breaking the eight-day barrier with a time of 7 days, 15 hours and just under 25 minutes.
The elder Disney came back on Pyewacket in 1999 to beat that time by four hours, a record that held until 2005, when Pyewacket lost to rival Morning Glory by 2 1/2 hours.
Disney had announced that 2005 would be his last Transpac, and had donated Pyewacket to Orange Coast College in California.
But he later changed his mind, leased the boat back from the college and set about putting in major modifications, including a longer hull and taller mast, pushing the boundaries of the race rules.
"Second is not a lot of fun, you know," Disney said a few weeks ago in an interview in Honolulu, referring to his close loss to Morning Glory. "I thought one more (race) is something I ought to do. There's no rationalizing any of this, you know. You need to understand that it's all a very emotional deal."
The passion with which Disney had pursued his quest for a new record made the 11th-hour withdrawal all the more surprising.
Light winds have bedeviled the early starters in the year's race, with many heading south to avoid a notoriously calm high-pressure system called the North Pacific High. One appendage of the high extended nearly to the California coast yesterday.
But churning up from the south was Tropical Depression 5-E, packing 25-knot winds and gusts of 35 knots (40 mph). If it holds or strengthens, the weather system could give some well-placed boats a needed boost over the next few days.
The record to beat: 6 days, 16 hours, 4 minutes and 11 seconds, set in light winds in 2005.
Disney said his navigator, Stan Honey, had estimated that the revamped Pyewacket is 15 percent faster than the '05 incarnation.
"I think that's a big number, frankly," he said. "If we're 10 percent faster, that's still a huge number."
---
---
Minnow takes a curious turn on its California-Honolulu tour
As the Transpac race entered its second week yesterday, the pressing question was, What's up with the Minnow?
The boat named after the ill-fated vessel in the 1960s TV comedy "Gilligan's Island" has turned sharply away from the bulk of the fleet and was heading almost due south yesterday, straight for a bit of bad weather called Tropical Depression 5-E.
Maybe the crew, brothers Mike and Bob Webster of Pryor, Okla., were hoping to ride some of the nascent storm's 30-mph winds toward Honolulu.
Or maybe they were simply going on a three-hour detour.
The duo got off to an unconventional start Thursday off San Pedro, Calif., with Mike Webster playing a tuba. His brother also has a tuba on board but could not play because he had to steer, said Transpac spokesman Rich Roberts.
Roberts said the Websters are new to sailing and are in the race more for enjoyment than competition. "The wind blows when it blows," Mike Webster was quoted as saying.
Their Catana 52 catamaran is one of only two multihull boats in the race.
STAR-BULLETIN