---
FAST FACTS HAWAII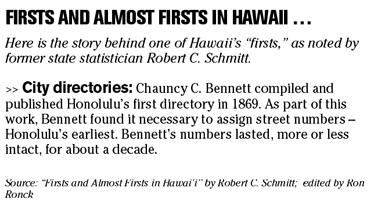 ---
HAWAII
Uncle Sam wants to hire you
The federal government is preparing for an exodus of experienced employees as baby boomers begin to hit retirement age.
As a result, recruiters are updating hiring practices and offering incentives to new grads, as well as to experienced employees from the private sector looking for "encore" careers in public service.
"It's not just young people the government needs," said Max Stier, president of the Washington-based Partnership for Public Service. "It needs entry-level, professional talent, but midcareer and experienced folks, as well. The recruiting challenges are quite similar to what the private sector faces."
The nonprofit partnership works with the federal government to increase the exposure of public sector employment. Its most recent report found 193,000 jobs will need to be filled in the next two years, including more than 62,800 security and law enforcement jobs across the country.
Outside of the military and quasi-governmental agencies such as the U.S. Postal Service, the federal government has 1.85 million civilian employees, Stier said.
Almost one-third of the federal work force is expected to retire or resign in the next five years, according to the Partnership for Public Service.
Most avoid IMs for tough news
Learning that you've been fired can take many forms: A face-to-face meeting, a telephone call, the much-dreaded pink slip. But an instant message?
According to a new survey, 14 percent of men said they would use an IM with an emoticon -- one of those animated faces that range from a happy grin to an angry screamer -- to fire someone. Only 11 percent of women reported the same, according to the nonscientific survey conducted by Yahoo!

When it's a personal relationship that's getting the boot, slightly fewer people would resort to an online chat to say, "Things just aren't working out."
At the same time, more than half of respondents said they would rather confess their feelings to a crush using an emoticon than in person. Ten percent said they'd even propose marriage via an instant message.
The survey included 40,000 Yahoo! Messenger users.
Health benefits all Greek to me
What do the words "flexible spending account" mean to you? How about "out-of-pocket maximum"? Surely "co-pay" rings a bell?
If you're like many people, some of the terms in your health insurance plan might as well be written in Sanskrit. Less than half of workers are comfortable explaining common benefit terms to a friend or co-worker. Only a few more read all of the benefit information provided to them during their office's annual health care enrollment process, according to a survey by consulting firm Watson Wyatt.
Jill Folan, spokeswoman for Watson Wyatt, said understanding such terminology is increasingly important as workers take more responsibility for managing their coverage. To help out employers can provide a glossary of health benefit terms, as well as provide examples to help employees understand common scenarios, Folan said. About 70 percent of workers prefer to receive print materials at home or work.
The nonscientific survey included nearly 2,100 workers covered by health insurance.
Show good workers you care
More than one third of professionals say businesses are ineffective at rewarding their employees strong performance, according to a new poll.
"Managers at times may overcomplicate what it takes to provide good recognition," said Diane Domeyer of OfficeTeam, an online job search service that conducted the nonscientific poll.
Saying thanks doesn't have to involve an expensive, formal event, she said. Rewarding an employee in front of their peers and supervisors can go a long way toward making them feel valued, Domeyer said.
Even a handwritten note or movie tickets can work, she said. Other creative approaches include allowing extra days off or extended lunch breaks.
Sales has long been an industry in which tangible, trackable progress has led to more frequent recognition, but many companies are expanding their criteria to subjective areas like exemplary customer service, Domeyer said. Thanking workers for a job well done improves employee retention and productivity, she said.
"It will pay bottom-line dividends," she said.
---
BUSINESS PULSE