BRUSH FIRES
Brush fires on Big Isle and Maui flare up
Smoke endangers health, state warns
STORY SUMMARY »
As brush fire season continues to vex isle firefighters, state health officials are now warning chronic respiratory sufferers about the exposure to smoke from the blazes.
People who have respiratory problems should consider leaving the area where there is smoke from a fire, or should take measures to reduce their exposure to smoke, dust and ash.
Recommended actions by the American Lung Association include:
» Staying indoors and using an air conditioner.
» Limiting physical exertion.
» Drinking plenty of fluids to loosen the mucus.
» Making sure you have an adequate supply of medication.
STAR-BULLETIN
---
FULL STORY »
WAILUKU » Multiple brush fires kept state and county firefighters busy on Maui and the Big Island as Hawaii's drier-than-usual summer continues to fuel wildfires.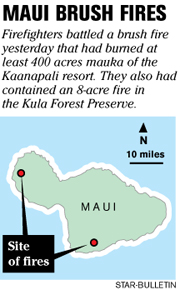 "I'd rank it pretty high. There's a lot more activity in the last year," Wayne Ching, a state fire management officer, said of this year's fire season.
Meanwhile, state health officials are warning people with chronic respiratory problems on Oahu, Maui, Kauai and the Big Island to take precautions against smoke, dust and ash, in light of recent brush fires.
Ching said there were six brush fires in Pahala on the Big Island yesterday -- all of which appeared to be "pretty much contained."
On Maui, state fire crews were containing an 8-acre fire in the Waipoli/Kula Forest Reserve about a half-mile below the state park at Polipoli.
State forestry officials planned to close the forest reserve for a month because of the dry conditions and susceptibility to fires.
State and county firefighters were also battling a brush fire that had burned at least 400 acres mauka of the Kaanapali resort area.
The fire, nearly contained, was about two miles above the main road on vacant agricultural land.
Two helicopters dropping water from tethered buckets were assisting firefighters.
Ching said the brush fire in Kaanapali was mainly in grass that gets wet at higher elevations, dampening chances of it spreading.
Ching said the cause of the fire in the forest reserve remained undetermined, but he noted that it started near the road leading to the park and was "kind of suspicious."
Ching said there is a possibility that the Kula fire might have started as a result of smoldering underground fires from a previous forest fire.
About 2,300 acres of the forest reserve were burned in parts of January and February.
Ching said the type of sandy soil in Hawaii contributes to smoldering underground fires.
Maui County Fire Chief Carl Kaupalolo said that in the case of forest blazes in Kula, fires will burn deep and can smolder for a long time.
The smoldering will continue underground, traveling though the root system or tunnels of debris until it has the right amount of oxygen and combusts, Kaupalolo said.
"You're going to have these fires that burn pretty deep," he said.