---
FAST FACTS HAWAII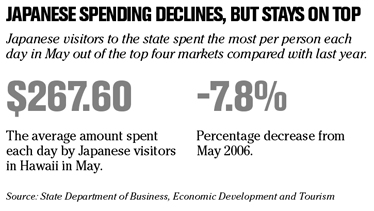 ---
HAWAII
Japan OKs isle anthurium imports
Agriculture officials in Japan have approved the import of potted anthuriums from Hawaii under specific quarantine conditions, the Hawaii Department of Agriculture announced yesterday.
The approval caps a 13-year effort by the state to open the Japan market to Hawaii anthurium growers.
Hawaii potted anthurium nurseries must be certified by the state as being free from the burrowing nematode, a pest that affects the roots of many fruits, vegetables and nursery products. The agreement calls for specific growing methods and periodic inspections and testing.
Potted anthuriums being shipped to Japan also must be potted in soil-free medium, such as peat, sphagnum, vermiculite and volcanic cinder.
Superferry interisland trials set
The Hawaii Superferry will begin crew-familiarization trips to the neighbor islands next week as the company prepares for the start of service in August.
Terry O'Halloran, director of business development for the Superferry, said yesterday that all the available tickets for a free vessel tour today have been snapped up, with people registering for 1,000 of the 3,000 available spots in the first 90 minutes. O'Halloran said the Superferry plans to offer another preview day on Oahu before beginning service but isn't sure of the date yet.
No dates have been set yet for neighbor island residents to tour the Alakai. The company initially will serve Maui and Kauai and then add service to the Big Island in early 2009 after a second ferry arrives from the shipyard in Mobile, Ala.
NATION
GE to drop U.S. mortgage business
HARTFORD, Conn. »
General Electric Co.
, the industrial, finance and media conglomerate, reported yesterday its second-quarter profit rose 9.6 percent and said it was getting out of the U.S. mortgage business.
The parent of the NBC TV network earned $5.42 billion, or 53 cents a share, in the three months ended June 30, up from $4.95 billion, or 48 cents a share, a year ago. The rise was led by its oil and gas, aviation, energy and commercial finance businesses.
Analysts surveyed by Thomson Financial has been expecting earnings per share of 52 cents. The estimates typically exclude one-time items.
WORLD
DoCoMo testing faster network
TOKYO » Japan's largest mobile phone carrier
NTT DoCoMo Inc.
said yesterday it began testing a new cellular network nearly 100 times faster than its current system.
The company said in a press release it had started testing equipment it hopes will yield download speeds of up to 300 megabits per second. Current maximum down speeds are 3.6 megabits per second.
Completion of the new network is scheduled by 2009.
Separately yesterday, DoCoMo said it would restart sales of a mobile handset made by Sony Ericsson that it had halted due to software problems.
---
BUSINESS PULSE