| | |
| --- | --- |
| | Newswatch |
---
FOUNTAIN OF FITNESS: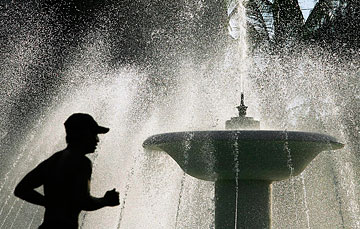 Animal groups disavow letter
Animal welfare organizations have disavowed an anonymous letter criticizing dog owners who leave their animals chained in the yard around the clock.
"This is a scam, and no one from this organization mailed those letters," said the answering machine of the Hawaii Dog Foundation, one of the organizations named in the letter.
The letter, sent mostly to Kaneohe residents, runs contrary to the foundation's stated goal: no more homeless dogs in Hawaii.
"We would never issue a letter like that," said Melissa Thompson, the foundation's adoption coordinator. "Any letter issued from our organization has our letterhead on top of it."
The Hawaiian Humane Society is also named in the letter as a place where chained dogs can find a better home.
The letter asks the owners to stop chaining their dogs around the clock. It continues, "Chaining your dog is like giving him/her a life sentence without parole. ... Please bring your dog inside with you part of the time."
For the purpose of tracking, the foundation is asking recipients of the letter to call the foundation at 220-8165 or e-mail hdfmelissa@yahoo.com or the Hawaiian Humane Society at hhs@hawaiianhumane.org.
About 13 calls were made to the foundation over the last two days complaining about the letters.
2 emergency sirens to be tested
People who live near McKinley High School and Moanalua Valley might hear emergency sirens during a test this morning.
The city and state will sound two new sirens between 8 and 10 a.m. There might be several 20-second tests.
The sirens are the last of eight units added to the island's emergency communication network under a 2004 plan. They are solar-powered and can operate during a power failure.
Grant to help enhance Chinatown
The city was awarded a $150,000 federal grant yesterday to help preserve and enhance Chinatown as a special historic district.
Mayor Mufi Hannemann said the city will match the grant given by Preserve America, an interagency organization chaired by first lady Laura Bush, so a total of $300,000 will go toward improving Chinatown.
"This is a major announcement because we had to compete with other historic districts throughout America," said Hannemann, who has made the Chinatown revitalization a priority. "We look forward to using these funds to make Chinatown one of the leading arts and cultural centers of the world."
Hannemann said the city hopes to address parking concerns, equip Chinatown with WiFi capability and enhance First Friday -- an event in which art galleries and businesses open the first Friday of every month.
Last year, Chinatown was designated one of the 501 Preserve America communities. Preserve America helps community efforts to preserve cultural and natural heritage.
Hollywood theme for cancer run
"Magic Island Goes Hollywood" is the theme of the American Cancer Society's Relay for Life from 7 p.m. tomorrow to 7 a.m. Sunday.
Teams are encouraged to decorate their campsites and wear costumes depicting their favorite movie or actor as they gather at Magic Island for the fundraising event.
The festive event will open with cancer survivors walking or using a wheelchair to complete the first lap.
For more information, call 595-7544 or see www.acsevents.org/hi/relay/magicisland.
Talk focuses on global warming
State Sierra Club Director Jeff Mikulina will give a noontime talk today on how Hawaii might accomplish the goals of the Global Warming Solutions Act of 2007.
The new law requires that Hawaii reduce its statewide greenhouse-gas emissions down to the 1990 level by 2020.
Mikulina will speak to the Engineers and Architects of Hawaii, but the public is welcome to the talk on the second floor of the YWCA, 1040 Richards St. Parking is available at Alii Place (enter from Alakea Street) for $1.50. Lunch is available for $11, or bring your own.
Island will be searched again for Earhart
NEW YORK » Hoping modern technology can help them solve a 70-year-old mystery, a group of investigators will search a South Pacific island to try to determine if famed aviator Amelia Earhart crash-landed and died there.
The expedition of 15 members of the International Group for Historic Aircraft Recovery, or TIGHAR, departed yesterday. The trip marks the group's ninth to Nikumaroro, an uninhabited atoll about 1,800 miles south of Hawaii.
Once on the 2.5-mile-long island, the group will spend 17 days searching for human bones, aircraft parts and any other evidence to try to show that Earhart and her navigator, Fred Noonan, reached the island on July 2, 1937, crashed on a reef at low tide and made it to shore, where they possibly lived for months as castaways, written off by the world as lost at sea.
The conditions during the search will be tough, with the explorers forced to contend with dense jungle vegetation and 100-degree heat.
"The public wants it solved. That's why everybody on the street today, 70 years later, knows the name Amelia Earhart," said TIGHAR founder and Executive Director Ric Gillespie.
ASSOCIATED PRESS
Coming this weekend in your Star-Bulletin:
SATURDAY
Keeping Faith:
A Christian, a Muslim and a Jew take part in the interfaith opening of Community Empowerment Services, which provides social services to mentally ill homeless people, as a demonstration that mental illness crosses all boundaries, including religion.
SUNDAY
Today:
An extended family in Kaneohe traces its beginnings to the 1800s, when a Kohala man named Komomua married the high chiefess of Heeia and founded a line that extends now into the seventh generation.
Business: As thousands of military members and their families prepare to return home, Oahu's residential real estate market is ready for action. New government laws, an improved economy and continued low interest rates have armed military buyers with more buying power than they have had in the past two decades, and they are putting it to use.
| | |
| --- | --- |
| | Police, Fire, Courts |
---
HONOLULU
Police looking for missing Kalihi man
Police are asking for the public's help in finding a 51-year-old Kalihi man who was last seen leaving his home on Kalani Street at about noon June 26.
Dung Tran is described as having black hair, brown eyes, 5 feet 7 inches tall, weighing 130 pounds, with a tan complexion. Anyone with information is asked to call CrimeStoppers at 955-8300 or *CRIME on a cell phone.