| | |
| --- | --- |
| | Island Mele |
---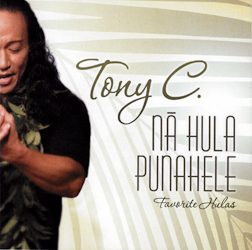 "Na Hula Punahele - Favorite Hulas"
Tony C
(The Mountain Apple Company - MACD 8578)
Former child star Tony "Tony C" Conjugacion has amassed a diverse repertoire since he was lured out of retirement by Ken Kahanu Post in 1985. Conjugacion's first album for Post, "Hawaiian Passion," established him as a major presence in Hawaiian falsetto, and won four Na Hoku Hanohano Awards, Male Vocalist of the Year and Album of the Year among them.
He subsequently took acting roles at the Hawaii Theatre ("Dreamgirls") and on Broadway ("Miss Saigon"), recorded two Hawaiian albums with his older brother, Brother Noland Conjugacion, and became one of the first to experiment with setting Hawaiian chant to electronic dance music with "TC2000" in 2000.
Conjugacion re-recorded "Hawaiian Passion" in 2003 with the same musicians he'd worked with in 1985 -- and sang falsetto in the same keys he'd used 18 years before.
Conjugacion reaffirms his commitment to preserving and perpetuating traditional Hawaiian and hapa-haole hula music with this marvelous collection of 20 "favorite" hulas -- three of them his own compositions. Anyone who knows Conjugacion only as a stellar falsetto vocalist will find that he uses his lower register quite effectively as well.
Conjugacion makes the change first in a slightly sassy rendition of "Sophisticated Hula," singing as a conventional tenor. He goes even lower, and shows his talent as a composer of old-style hapa-haole songs, with "Waikiki By Starlight." Conjugacion is already a Hoku-winning songwriter; this tune should be at least a finalist in 2008.
Fans of Conjugacion's falsetto will applaud "Ku 'u Lei 'Awapuhi," "Nanakuli" and "Aloha Paweo," and treasure his work with an all-star female vocal trio -- Nina Keali'iwahamana Rapoza, 'Iwalani Kahalewai and Mae Kama'i.
Conjugacion writes in the liner notes that the arrangements were intended to make the album as halau-friendly as possible. Hula evolved as a form of dance performed to lyrics rather than music, and only hard-core ethnomusicologists are likely to miss the instrumental passages he omitted.
The Mountain Apple Co. in recent years has sometimes released Hawaiian albums without adequate documentation, but Conjugacion lives up to his responsibilities as a teacher and cultural conservator by including beautifully illustrated liner notes that include Hawaiian lyrics, English translations and other important information.
---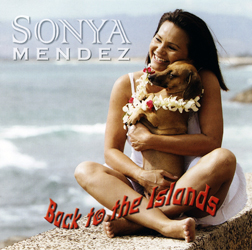 "Back to the Islands"
Sonya Mendez
(Fat & Happy Records - FHR1001)
Sonya Mendez has embraced several distinctly different styles since she broke into local show business in the '70s. She was Top 40 and show tunes as a Waikiki lounge act, "New Wave" rock as the leader of Sonya & The Revolucion at the Wave Waikiki in the '80s, and has been a potpourri of Latin-flavored jazzy pop since.
As executive producer of this project, she had final say on the material and arrangements, and perhaps for that reason "Back to the Islands" is her best album since her Revolucion days. Mendez sings beautifully, and the arrangements are a good fit.
Mendez establishes the theme with the opening track, "Island Rain," and builds on it with "The Island," "Back to the Islands," and "Bali Hai," the latter a nod to her show-stopping portrayal of Bloody Mary at Paliku Theatre in 2005. "You Don't Love Me" shows her command of jazzy pop, and "Luau Cha Cha Cha," performed in separate exotica-lite English and Spanish versions, recycles the 2006 single release that won her a Hawaii Music Award.
Two remakes of familiar local hits represent the apex and nadir of the project. A dreamy introspective arrangement of "Moon and Stars" puts the vintage Kalapana hit in a provocatively fresh perspective, but Mendez's take on "He Loves You" is such a close clone of the original version that it sounds as if she were auditioning for work as a Pauline Wilson sound-alike."
John Berger
, who has covered the local entertainment scene since 1972, writes reviews of recordings produced by Hawaii artists. See the Star-Bulletin's Today section on Fridays for the latest reviews. Reach John Berger at
jberger@starbulletin.com
.