Wu-Tang Clan leads slimmed-down concert lineup
HIP-HOP HEADS are understandably excited about the
Wu-Tang Clan's
first concert appearance in Hawaii since 1997.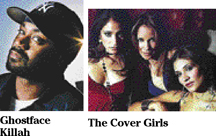 While Method Man performed here solo in recent months and Raekwon had been rumored to appear during Pro Bowl weekend a few years back, most local fans haven't seen the likes of Ghostface Killah, Inspectah Deck, GZA, RZA, Masta Killa and U-God since they closed out Big Mele '97 at Kualoa Ranch.
The Clan will return to Oahu on Sept. 1 to headline a watered-down version of "Rock the Bells 2007" at Blaisdell Arena, according to the music festival's MySpace page. Unfortunately, we only get three of the 20-plus artists that have already signed on to play New York City on July 28 and San Francisco on Aug. 18.
So forget about seeing a live set by Rage Against the Machine, Pharoahe Monch, Immortal Technique or Living Legends. Instead, we get Wu-Tang, Bone Thugs 'N Harmony (who already performed on Maui earlier this year) and Supernatural. Ticket info is said to be coming soon ...
DEBUT PARTIES are the theme this weekend, with new events in Aiea, downtown Honolulu and Waikiki. "Lip Gloss" is a new 21-and-over weekly that caters to an alternative female crowd at Che Pasta. Friday's launch will feature an ultra lounge vibe from 8 to 10 p.m. with live music by Zasha of Simple Souls. Roxy Annabelle will then take over the mic to host the club portion of the night until 2 a.m. ... On Saturday, Kurious Productions steps in to help revive Saturdays at the W Honolulu. "Wonderlounge: The Dragonfly Room" will feature DJs Mixmaster B, Stealth, Lex One, Saput Mo and a guest set by DJ Anit. "Shine Saturdays" starts the same night at Lily Koi Restaurant and Lounge, with DJs James Coles, Montez Brown, Chris Rox, 720 and Peter Lau on the decks ... And on Tuesday, Waikiki welcomes reggae on a regular basis when Positive Regime kicks off its 18-and-over "Kingston Town" weekly at Fashion 45 ...
CONGRATS TO Big Ben Productions and Capone's Auto Detailing for proving old-school pop music is still a big draw in Honolulu.
The "Ladies of the 80's" concert at Pipeline Cafe last weekend was amazing to watch, as most of the crowd looked like they had to find a babysitter before heading out that night. More than 1,500 fans packed the club early, which caused me to miss Sweet Sensation's opening set while I searched for a parking space of my own.
Once inside, I headed upstairs for a drink with Visionary Related Entertainment's Cedric Duarte before posting up with KGMB's Jay Park and Cinnamon Red Entertainment's Darryl Hill on the first floor. That's when the karaoke started, as the mostly-female audience sang along to just about everything Expose and Lisa "Lisa Lisa" Velez decided to play.
Can't wait to relive the glory days? The Cover Girls, Debbie Deb, Shannon and Trinere are all expected to be part of "Ladies of the 80's II" in September. Negotiations are underway with Salt-N-Pepa to headline that show ...
SATURDAY'S PICKS: The Living Room celebrates its third anniversary at Fisherman's Wharf with $2 drinks until 1 a.m. and DJs Compose, Zack Morse, Reid, Eugene and Darren spinning until 4 a.m. ... All ages are welcome at Coffee Talk, where the Golfcart Rebellion, Mercy Merry-Go-Round, the Guttercats, Linus and Som Nobre play from 7:30 p.m. Five bucks gets you in ... Local rockers Resistor play their second-to-last gig at Gordon Biersch. Your final chance to see them play is next Friday at Tropics in Kailua ...