---
FAST FACTS HAWAII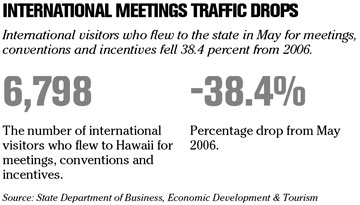 ---
Isle mortgage costs decline
Mortgage closing costs in Hawaii have fallen over the last year, ranking the state sixth most expensive in the nation to close a real estate transaction, according to
Bankrate Inc.
Hawaii ranked third highest in the nation last year, when closing costs averaged $3,407, compared to $3,008 this year.
Hawaii's lender fees dropped to an average $1,509 this year, compared to $1,922 last year, when it topped the nation.
Meanwhile, title and third-party costs rose in most states. Third-party title costs in Hawaii averaged $1,499, up from $1,485 last year and the national average of $1,442.
New York topped the nation for highest mortgage closing costs for the third year in a row at $3,830, while Indiana ranked the least expensive location at $2,339.
Hawaiian Air traffic up in June
Hawaiian Airlines
filled 87 percent of its seats in June -- duplicating its load factor from a year ago -- even as the number of passengers it transported jumped 14.9 percent from the year-earlier period due to an increase in aircraft.
The airline said 616,419 passengers traveled systemwide, up from 536,640 in June 2006. Hawaiian's available seat miles -- one seat transported one mile -- increased 17.9 percent to 779.7 million from 661.4 million while its revenue passenger miles, or the total miles flown by paying passengers, rose 17.9 percent to 678.5 million from 575.5 million.
Hawaiian does not provide separate data for its interisland and trans-Pacific routes.
Ameriquest settlement forms sent
IRVINE, Calif. » Consumers in Hawaii and 48 other states can start applying to receive their share of a $325 million settlement negotiated with Ameriquest Mortgage Co., once the biggest home-loan lender to people with credit problems.
In Hawaii, 2,264 Hawaii consumers are eligible for $1.6 million in restitution, according to the state Department of Commerce and Consumer Affairs.
The settlement resolved allegations that from 1999 to 2005, Ameriquest, a unit of ACC Capital Holdings Inc., failed to disclose loan terms adequately, refinanced borrowers into inappropriate mortgages, inflated appraisals and charged excessive fees. The company funded $70 billion in "subprime" loans in 2005.
More information is available at www.ameriquestmultistatesettlement.com or by calling (800) 420-5875.
---
Mortgage rates 2nd highest in 2007
WASHINGTON » Rates on 30-year mortgages rose this week to the second-highest level of the year as financial markets reacted to stronger economic news.
Freddie Mac, the mortgage company, reported yesterday that 30-year fixed-rate mortgages averaged 6.73 percent this week. That was up from 6.63 percent last week and very close to the high of the year, 6.74 percent in the week of June 14.
Rates on 15-year fixed-rate mortgages rose to 6.39 percent this week. Rates on five-year adjustable-rate mortgages averaged 6.35 percent this week. Rates on one-year adjustable-rate mortgages remained at 5.71 percent this week.
Alcoa out:
Alcoa Inc. withdrew its $28 billion offer to buy Canadian aluminum rival Alcan Inc. yesterday after being outbid by mining giant Rio Tinto. Rio Tinto's bid of $38.1 billion in cash, announced hours earlier, exceeded the unsolicited offer launched by Alcoa in early May and would create the world's largest aluminum company.
---
BUSINESS PULSE