| | |
| --- | --- |
| | Newswatch |
---
BOTBALL 2007: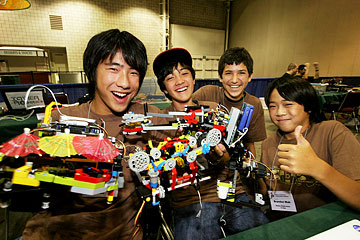 July 4 injuries drop, state reports
Fireworks-related injuries were down this Fourth of July from last year, with 17 people being treated at Hawaii emergency rooms, compared with 23 last year, the Department of Health reported.
That is 26 percent lower than last July 4.
The 17 injuries mark the lowest level since 2003, when injuries also numbered 17.
All the injured were taken by private transport to emergency rooms, where they were treated and released. Of the 17, 16 were injured on Oahu and one on the Big Island.
Most of the injured were under age 18, and six were under 10.
All were burn injuries, 88 percent of which involved hands and fingers.
Abut half the injuries occurred from 8:15 to 9:15 p.m., an apparent deadline frenzy, since rules mandated that fireworks stop at 9 p.m.
The number of injuries peaked in July 2005 with 57, and there were 22 in 2004.
State tries to cut license red tape
The state Judiciary says it is working to complete, as soon as possible, the computer interface with city computers to relay information electronically on pending traffic violations committed by teenagers as part of a new requirement for getting a provisional driver's license.
Only 16- and 17-year-olds with no outstanding traffic violations can get their provisional driving license after passing a road test.
A new law that went into effect July 1 requires the courts to share the information with the counties, which issue driver's licenses.
Because the Judiciary computers are not yet linked to the city's motor vehicle and licensing computers, these teens have to get a document from the courts showing they are clear of violations that would result in the suspension or revocation of a provisional license or violations related to operation of a motor vehicle.
Judiciary spokeswoman Marsha Kitagawa said in an e-mail that teens who have passed their road test are being sent to obtain a Juvenile Provisional Status Letter, which can be obtained at any Traffic Violations Bureau of the District Court.
Teens who pass their road test are being given a form they can take to court to get the letter. Kitagawa said to obtain a letter, teens or their parents will need identification with a photo. There is no charge for the letter.
The letter then must be taken back to the driver licensing center to obtain the license.
Construction closes fire station
The McCully Fire Station shut down yesterday for 18 months of reconstruction.
The project is expected to be completed in early 2009. The station at University Avenue and Date Street houses Engine 29 and Ladder 29, manned by 10 firefighters.
Engine 29 will move to temporary facilities at the Ala Wai Golf Course maintenance yard parking area on Date Street. Ladder 29 will relocate to the Waikiki Fire Station.
A banner will be displayed on the building until it is demolished advising the public that the station is closed, and anyone with an emergency should call 911.
| | |
| --- | --- |
| | Police, Fire, Courts |
---
Odor stirs preschool to evacuate
A gas odor prompted the evacuation of 72 children from a Waianae preschool yesterday afternoon.
"There is an evacuation of our school," said Douglas Mersberg, executive director of the Waianae Early Education Center at 84-1061 Noholio Road. No one was injured before or during the evacuation, he said.
One of the school's teachers noticed the smell in a classroom at about 1 p.m. Afterward, city Emergency Services Department vehicles safely transported the children to another of the school's facilities at Waianae United Methodist Church on Farrington Highway. Staff also went to supervise the children.
By 2:15 p.m., fire investigators announced the area was all clear, said Honolulu Fire Department Capt. Frank Johnson.
Investigators found the probable cause of the odor was a propane tank on a neighboring property that had been filled in the morning and was leaking excess gas.
"It had too much pressure in the tank," Johnson said.
The preschool serves children 2 through 5, year-round, and usually ends classes at 2 p.m. School officials notified parents of the evacuation.
Mersberg said the school will be open today.
---
HONOLULU
Arrested man, 55, dies in custody
A 55-year-old man, who was arrested at about 8:20 a.m. Tuesday, was found unresponsive later at the main police station cellblock and died.
The Medical Examiner's Office said the man died of bleeding in the brain, but the manner of death was deferred pending further investigation.
According to the police booking log, the prisoner was Charles D. Carter, who had no local address. He was arrested on charges of first-degree criminal trespassing and open lewdness.
The Medical Examiner's Office said no positive identification had been made.
Police said the man was found unresponsive in his cell at about 11:15 p.m. Tuesday.
Police said there was no sign of foul play. The case is classified as an unattended death, pending further investigation.
WAIKIKI
Suspect nabbed in April attack
Police arrested an 18-year-old who allegedly attacked two people at a Waikiki hotel in April.
Police said that at about midnight April 29, a 21-year-old man and an 18-year-old woman were in their hotel room when they heard a knock on the door. They looked through the peephole and saw that the person knocking was a friend, so they opened the door, police said.
Once the door was open, the suspect appeared from out of sight, forced his way into the room and punched both the man and woman, police said. After a struggle, the woman and the friend who had knocked on the door pushed the suspect out of the room, police said.
The suspect was found in Salt Lake on Tuesday and was arrested on suspicion of first-degree burglary.
NEIGHBOR ISLANDS
Pair of brush fires keeps crews busy
WAILUKU » Two brush fires occurred on Maui within 24 hours.
Authorities were investigating the cause of a brush fire that burned an estimated 1,000 square feet of brush Tuesday at the 7,000-foot level at the state Polipoli Forest Reserve.
A flare-up near an old brush fire at Haliimaile occurred close to noon yesterday, burning a quarter-acre.
Some five acres of brush at Haliimaile burned Monday before firefighters could contain the blaze.
BREAKING
2 teens accused stealing car
Police arrested two teenagers who were caught with a stolen car in a convenience store parking lot.
Police said a witness saw a car belonging to someone he knows pull into the parking lot of a 7-Eleven store in Makaha at about 3:50 yesterday afternoon. Two men in the car, both 18, apparently did not own it.
The driver went into the store while the passenger stayed in the car, and the witness called 911, police said.
As a patrol unit arrived, the passenger got into the driver's seat and tried to drive away, but officers stopped him, police said.
When the other man came out of the store, police stopped him as well.
Both suspects were arrested for investigation of auto theft.