50TH ANNIVERSARY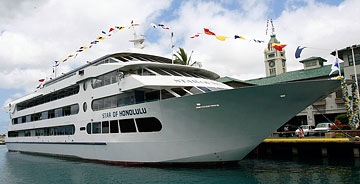 Paradise invests $3M in fleet
The company marks its 50th anniversary with a new vessel
Paradise Cruise Ltd., which began service in 1957, has set sail on its 50th anniversary year with a $3 million capital investment that includes an overhaul of its existing fleet and the addition of a fourth ship.
The company, which has carried more than 10 million visitors since its inception, recently spent $1 million on interior renovations for its flagship Star of Honolulu. It has also spent another $2 million to build Hoku Nai'a, a 149-passenger vessel that will begin catering to Oahu's ecotourism market when it sets sail in October.
"We are so proud to be celebrating our golden anniversary and see it as the perfect opportunity to expand our services to meet the growing demands of our visitor and kamaaina markets," said Ronald D. Howard, owner and president of Star of Honolulu Cruises & Events, which hosted Gov. Linda Lingle, Mayor Mufi Hannemann and many other dignitaries during a golden luncheon yesterday.
When Howard took over the company in 1982, it employed 28 people and operated two boats on tours of Pearl Harbor. Today, the company employs 450 workers and hosts about 1,000 visitors a day on the 16 cruises it runs out of Oahu and Maui.
The company expects its new cruise ship, the Hoku Nai'a, to net an additional $3 million in revenue running ecologically oriented tours over the next five years, Howard said.
"We've come a long way," said Mitzi Hirasawa Howard, who is Ronald Howard's wife as well as the vice president of sales and marketing for their company.
"Dinner cruises used to have a stigma as booze cruises," Hirasawa said. "People went on them for the all-you-can-drink specials and to see the sunset."
Now, customers expect more than paper plates and plastic silverware, Hirasawa said. Today's more discriminating travelers expect excellent cuisine, an upscale interior that is ADA compliant and a smooth, steady ride, she said.
Star of Honolulu was recently named one of the top 10 best sunset cruises in the nation by Coastal Living Magazine.