| | |
| --- | --- |
| | Newswatch |
---
WHAT A SQUARE: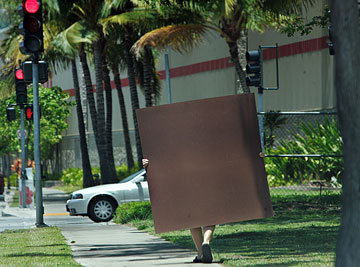 2 bus drivers indicted over taxes
A grand jury has indicted two Oahu bus drivers on tax evasion charges.
Elward I. Taira, a former bus driver for Oahu Transit Services Inc., was charged with three counts for allegedly failing to file and pay state income taxes for years 2002 to 2004.
State tax officials said Taira, now an employee with Roberts Hawaii Inc., filed a false Form HW-4 and claimed "99" exemptions to instruct his employers to not withhold his state income taxes and subsequently failed to file his state individual income tax returns, committing tax evasion, according to a news release.
His wife, Faith K. Taira, an Oahu Transit Services bus driver, was also charged late last month with failing to file and pay state income taxes during the same time period.
Tax evasion is a Class C felony that carries a maximum fine of $100,000 and a maximum prison term of five years. Failure to file a tax return is considered a misdemeanor that carries a maximum fine of $25,000 and a maximum prison term of a year.
Remains at Punchbowl identified
The remains of an American serviceman killed in the Korean War rested in the National Memorial Cemetery of the Pacific at Punchbowl as an unknown for more than 50 years before being identified as those of a U.S. Marine from Akron, Ohio, the Department of Defense POW/Missing Personnel Office announced yesterday.
Pfc. Domenico S. Di Salvo was a member of Company F, 2nd Battalion, 5th Regiment, of the 1st Marine Division in 1950 near Yudam-ni on the western side of the Chosin Reservoir in North Korea, the department said.
On Nov. 27, 1950, three Communist Chinese divisions launched an attack on the Marine positions. U.S. forces withdrew to the south, and Di Salvo was killed Dec. 2, 1950. He was among several servicemen buried by fellow Marines in a temporary grave near the battlefield.
In 1954, North Korea repatriated the remains of U.S. and Allied soldiers, including those associated with Di Salvo's burial. U.S. officials soon identified five of the individuals, but his remains couldn't be identified at the time and they were buried in the national cemetery here.
Last November, the Joint POW/MIA Accounting Command exhumed remains believed to be those of Di Salvo, and scientists managed to identify them, using such forensic tools as dental comparisons.
Di Salvo's remains will be returned to his family. He is to be buried with full military honors July 12 in Seville, Ohio.
New Ala Wai pipes start flowing
Sewage is now flowing through two new 1,100-foot-long lines underneath the Ala Wai Canal, according to officials from the Beachwalk Wastewater Emergency Bypass Project.
The new lines have been connected to the Beachwalk sewage pump station, at Kaiolu Street and Kuhio Avenue in Waikiki, according to the update yesterday from project manager M & E Pacific.
The new lines were built inside tunnels bored by "microtunneling." Putting them into service marks a major milestone for the $15 million project, which began in June last year.
The project is intended to prevent a repeat of the March 2006 diversion of 48 million galslons of raw sewage into the Ala Wai Canal. That incident, caused by a break in the line under Kaiolu Street, was Oahu's worst sewage spill.
After hooking up the first new microtunneled line recently, workers were able to shut down the temporary bypass pumps that sit above ground on Ala Wai Boulevard. Those pumps will remain on standby until the old so-called force main underneath Kaiolu Street is hooked to the pump station as a longer-term backup line, the newsletter said.
Ultimately a total of $48 million in work during the next six years is supposed to fix the problem permanently, city officials have said.
Kauai college hosts talk on birds
Endangered seabirds will be the topic of a free talk Friday at Kauai Community College.
Nick Holmes, coordinator of the Kauai Endangered Seabird Recovery Project, will talk about life histories and fieldwork discoveries about the Newell's shearwater ('a'o) and Hawaiian petrel ( 'ua'u) seabirds center stage at 6:30 p.m. at the Kauai Community College cafeteria.
The event is presented by the National Tropical Botanical Garden (www.ntbg.org), which has gardens and preserves on Kauai, the Big Island and in Florida. For more information, call Brianna Wilkerson at (808) 332-7324, ext. 250.
| | |
| --- | --- |
| | Police, Fire, Courts |
---
HONOLULU
Former boyfriend arrested in assault
Police arrested yesterday a 27-year-old Kalihi man who allegedly threatened his ex-girlfriend's new boyfriend with a gun.
Police said the man allegedly confronted the 19-year-old man at 12:25 a.m. June 30 on a Kalihi roadway with a gun.
The older man allegedly placed the barrel of the gun to the back of the younger man's head and yelled at him, police said.
He allegedly punched the 19-year-old in the ribs several times, got into a vehicle and drove off before police arrived, police said.
Officers spotted the suspect about 7:15 a.m. yesterday walking on Kalihi and Laumaile streets near his home, and arrested him on suspicion of first-degree terroristic threatening and second-degree assault.
CENTRAL OAHU
Argument prompts alleged car attack
Police arrested a 37-year-old man who allegedly used his car to ram a woman's car.
Police said that about 11:30 Monday night, the suspect and a 39-year-old woman were arguing in Wahiawa. As the woman drove away, the suspect rammed the passenger side door of her car with his car, police said.
The victim drove to the Wahiawa police station and the suspect followed, police said.
Officers arrested the man at the police station on suspicion of first-degree criminal property damage.
LEEWARD OAHU
Home blaze deals minor damage
A homeowner working yesterday afternoon on his house in Nanakuli caused minor fire damage to the structure.
The fire was reported at 4:37 p.m. and a crew was on scene in seven minutes.
Fire Capt. Frank Johnson said the first crew on scene extinguished the blaze upon arrival.
The fire at 87-306 Hookele St. burned one wall and a small portion of the ceiling, Johnson said.
No estimate of damage to the home was available last night.
NEIGHBOR ISLANDS
Kauai brush fire out after 2 days
A fire on Kauai that burned about 30 acres of brush in Puhi and 10 acres of the Huleia National Wildlife Refuge over the last two days was extinguished at 4 p.m. yesterday.
Twelve firefighters mopped up hot spots from 7 a.m. yesterday until it was fully extinguished. The fire began Sunday night in the Halehaka Road area in Puhi around 11:45 p.m. and extended to the nearby wildlife refuge.
BREAKING
Man, 29, accused of passing fake $50
Police arrested a 29-year-old man in Aiea for allegedly using a counterfeit $50 bill.
The suspect allegedly attempted to use the bill to purchase a pack of cigarettes from an Aiea store at about 6:15 p.m. yesterday. The store clerk became suspicious and called police, who arrested the man on suspicion of first-degree forgery.