---
FAST FACTS HAWAII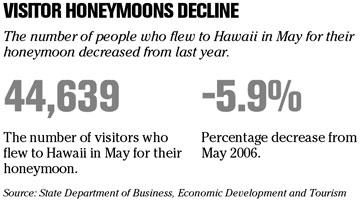 ---
Castle Resorts adds Guam property
Castle Resorts & Hotels, which manages hotels and condominiums throughout Hawaii, has added a hotel property in Guam to its management portfolio.
Castle began managing operations, sales, marketing and reservations for the 110-room Hotel Santa Fe effective July 1. The art deco hotel, owned by Beach Resorts LLC, sits on Hagatna Bay.
"Castle Resorts & Hotels' strategic growth plan includes expansion in emerging markets as well as in the destinations we currently serve," said Alan Mattson, president and chief operating officer.
A subsidiary of Castle Group Inc., the company manages more than 2,800 hotel rooms and condominium units and employs more than 650 people in Hawaii, Micronesia and New Zealand.
[ HAWAII INC. ]
New Hires / Promotions
» Kober Hanssen Mitchell Architects has promoted
Laurie Kaneshiro
to principal from director of interior architecture. She has nearly 30 years of interior design experience in the hospitality and healthcare sectors, with projects that include Pacific Buddhist Academy, Kaiser Moanalua Hospital and Waianae Coast Comprehensive Health Center.
» Old Republic Title Holding Co. has named Keith MIddlesworth as vice president and division manager of lender services. He will be responsible for expanding the lender customer base and market share within California, Arizona, Nevada, Hawaii and Washington. Old Republic Title Holding Co. is the parent company for Old Republic Title & Escrow of Hawaii.
» ProService Hawaii has promoted Jo-Ann Kaita to human resources director. She will be responsible for the company's internal human resources functions and its compliance team that ensures the HR needs of its 750 clients. She joined the company in 2005 as human resources manager and has nearly 14 years of experience in human resources.
» Occidental Underwriters of Hawaii has hired Jason Segawa as brokerage manager. He will be responsible for recruitment of new brokers and increasing exposure to life insurance carriers represented by the company. He previously worked with Wesley R. Segawa and Associates Inc.
» Bank of Hawaii has announced the following new promotions: Ronald E. Cannoles has been promoted to senior vice president and retail and operations manager of the Pacific Islands Division. He will be responsible for sales, sevice, operational and compliance functions of retail banking within the division. He previously served as West Hawaii regional manager. Brian S. Ishikawa has been promoted to senior vice president of the securty departent from vice president. He joined the bank in 2001 as a security investigator and currently serves as director of corporate security. He previously worked as an investigations manager for Safeguard Services.
» The International Association of Business Communications Hawaii has elected its directors for 2007-2008: Su Shin, president; Steve Golden, past president; Liz Ahana, president elect and senior delegate; Lynne Unemori, vice president of finance; Lee Tokuhara, vice president of membership and marketing; Darcie Scharfenstein, vice president of professional development; Colleen Sotomura, vice president of administration; Kris Tanahara, vice president of communications; Keala Peters, vice president of communications; Linda Howe, vice president of awards programming, James Whitfield, vice president of university relations and Andrea Maglasang, vice president of Web communications.
---
iPhone rumor spikes Apple shares
SAN JOSE, Calif. » Shares of
Apple Inc.
hit a new all-time trading high yesterday after an analyst speculated that the company would come out with a less expensive, smaller iPhone later this year.
JPMorgan Chase & Co. analyst Kevin Chang, who cited an Apple patent and components suppliers he declined to identify, said Apple may introduce an iPhone based on the iPod Nano this year costing less than $300.
Yet a separate report from Chang's colleague, Bill Shope in New York, told clients that a low-end phone from Apple was unlikely in the near term.
Apple spokeswoman Natalie Kerris declined to comment on the dueling Wall Street reports.
Apple shares closed at $132.35, up $2.02, or 1.5 percent.
Honda and Nissan eye Thailand
Bangkok >>
Honda Motor Co.
and
Nissan Motor Co.
, Japan's second- and third-largest carmakers, are seeking to win licenses to set up plants in Thailand for fuel-efficient cars as the country aims to become a production center for such vehicles.
Thailand will issue licenses by February to an unspecified number of carmakers, Satit Chanjanakul, secretary general of Thailand's Board of Investment, said yesterday. The government will offer tax breaks and lower tariffs on machinery imports to the companies, he said.
BRIEF CASE
Chrysler charges:
Criminal charges have been filed against a former DaimlerChrysler AG employee suspected of claiming money from the company for construction work that wasn't performed, a prosecutor says.
Levi profit hike: Levi Strauss & Co.'s second-quarter profit rose 14 percent, accelerating a comeback that has spurred talk that the storied jeans maker might go public again after more than two decades as a privately held company.
Jury seeks advice: The jury in the racketeering and fraud trial of fallen media tycoon Conrad Black sent a note to the judge yesterday saying they are unable to reach a verdict and asking for advice.
---
BUSINESS PULSE