---
FAST FACTS HAWAII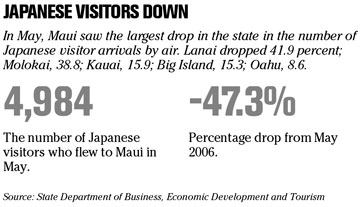 ---
First Superferry tour set
Hawaii Superferry
has announced that the first of several preview tours of its first vessel, the Alakai, is scheduled for Saturday from 10 a.m. to 2 p.m. at Pier 19.
Because of security restrictions, anyone wishing to go aboard will have to register in advance via one of five Clear Channel radio station Web sites: KSSK AM 590/ FM 92.3 (ksskradio.com), Island 98.5 FM (ir985.com), Star 101.9 FM (star1019.com), Hot 93.9 FM (i-94.net), KHVH News Radio 830 AM (khvh830am.com).
Registrations will be taken on a first-come, first-served basis. To board, adults must show government-issued photo identification. Persons under 18 must be accompanied by an adult. Cameras are allowed.
Access will be by free shuttle from Harbor Square and Topa Financial Center Towers in downtown Honolulu. There will be no parking at Pier 19.
$32M price tag on Kona hotel
The King Kamehameha's Kona Beach Hotel was sold last month for $32 million.
State records show that the buyer paid $57.3 million, but that loan price includes roughly $25 million already announced for renovations.
HTH Corp. on June 21 sold the 460-room hotel in Kailua-Kona to a group of local investors and a California hotel company, Invest West Financial Corp./Pacifica Hotel Co.
The local investors include Joe Leoni, Patrick Beach, Russell Geyser and Timothy John Young, president of Honolulu-based Blackpoint Capital Advisors LLC.
HCDA head hunt to cost $25K
The Hawaii Community Development Authority has approved $25,000 for an executive search firm to coordinate its search for another executive director.
Inkinen & Associates will help the authority find a replacement for Executive Director Daniel Dinell, who steps down Aug. 3 to return to the private sector.
Candidates with at least five years of managerial experience, knowledge of Hawaii's land use and development processes, as well as the ability to work with diverse stakeholders, are encouraged to apply.
The public is also encouraged to nominate candidates for the position and provide input through the HCDA Web site at www.hcdaweb.org. The deadline for applications is July 30.
---
BRIEF CASE
Delphi scraps deal:
Delphi Corp. says it has scrapped its agreement with a group of investors that was going to kick in up to $3.4 billion to help the struggling auto parts maker emerge from Chapter 11 bankruptcy protection.
Buying security: Google Inc. is buying e-mail security specialist Postini Inc. for $625 million, fortifying the Internet search leader's effort to sell online software services to corporate customers seeking alternatives to Microsoft Corp.'s long-dominant products.
Wireless partnership: Samsung Electronics Co., the world's third-biggest maker of mobile phones, and smaller rival Ericsson AB agreed to share wireless-communication technology and end all patent lawsuits against each other.
---
BUSINESS PULSE