---
FAST FACTS HAWAII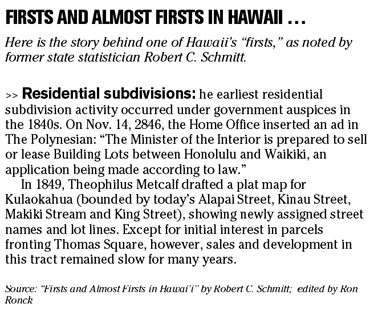 ---
NATION
Look around you for inspiration
If you want to improve customer service at your business, try watching reruns on television, chatting up an 8-year-old or visiting a fancy hotel.
Business savvy can crop up in the most unexpected places, according to Alan Gregerman, author of "Surrounded by Geniuses: Unlocking Brilliance in Yourself, Your Colleagues and Your Organization."
For example, plopping down in front of a few "Seinfeld" reruns can be more valuable than spending millions of dollars on market research, Gregerman said. Popular television shows are well-loved because they hit a chord with mainstream America. The characters' joys and frustrations can often reflect your customers' preferences, he said.
Your local Girl Scout troop offers a lesson in connecting with clients, Gregerman said. The annual cookie sale combines the nostalgia of a well-loved brand, an appealing salesperson and a quality product, he said. People feel like part of their community, not just a customer, when they buy a box of Thin Mints.
"You get an amazing amount of what it means to be human for $3.50," Gregerman said.
Finally, almost any business can learn a thing or two from concierges at the world's finest hotels. They greet each request with a promise to make it their first priority, then rely on established networks to deliver on that promise, Gregerman said. A contact at the city's hottest restaurant can mean the difference between a disappointed guest and a last-minute reservation.
Businesses adapt to new grads
Today's graduates expect more than a steady paycheck from their employers. And don't ask them to work on weekends.
The top career goal college students wish to reach within three years of graduation is balancing their personal life with work, according to a new survey. Pursuing higher education ranked second, though students are in no rush to return to the books -- that goal saw a 10 percent drop from last year to 36 percent.
This new generation has forced corporate America to adapt its workplace policies, said Claudia Tattanelli of Universum USA, the branding company that conducted the nonscientific survey.
"It does not ask for work-life balance, it assumes it," she said.
Nearly 30 percent of students cited contributing to society as a priority, and high ethical standards trumped financial strength as the top characteristic students seek in an employer.
For this generation, work is more than just a place to earn a paycheck, it's an environment in which to learn, be mentored and make a difference, Tattanelli said.
Nearly 45,000 undergraduate students from 184 schools responded to the online survey.
---
BUSINESS PULSE