| | |
| --- | --- |
| | Newswatch |
---
KEEPING PUA LANE CLEAN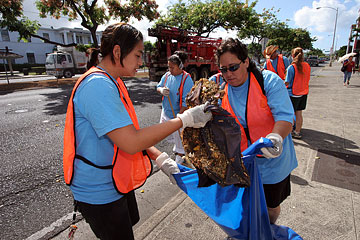 Lanai celebrates restored harbor
WAILUKU » A $28.2 million renovation of Lanai's largest harbor was dedicated yesterday.
A new breakwater was built to reduce wave action at Lanai's Kaumalapau Harbor, after storms caused it major damage in the 1980s and early 1990s.
Kaumalapau is Lanai's only commercial harbor capable of handling tug and barge service.
The breakwater was constructed by Traylor Brothers Inc. for the U.S. Army Corps of Engineers.
Traylor Brothers received the award in July 2004 and completed construction on June 8.
Kahuku Hospital taken over
The Hawaii Health Systems Corp. has taken over administration of Kahuku Hospital under a short-term contract while obtaining licenses to add the North Shore facility to the state hospital system.
"The contract is an important step towards ensuring the longevity of Kahuku Hospital's health services," said R. Eric Beaver, chairman of the hospital board.
Beaver said the hospital "remains committed to serving the community during this transition situation and under the new ownership."
The state Department of Health is facilitating the transition.
Vincent Lee, Hawaii Health Systems Corp. Oahu region chief executive officer, said the management and acquisition plan "is right in line with our safety-net mission to provide important health care services in rural communities.
The last Legislature provided $950,000 in emergency funds to keep the financially ailing hospital open. It also passed legislation allowing the hospital agency to acquire and operate it as the 13th community hospital in the state system.
Kahuku Hospital opened in 1928 as a plantation hospital and now serves more than 20,000 North Shore and Windward Oahu residents. It is the only hospital between Kailua and Wahiawa.
Pendleton picked for Aging Office
Gov. Linda Lingle appointed Noemi Pendleton as the executive director of the Department of Health's Executive Office of Aging.
Pendleton, a former Board of Education member, will start her new position on Aug. 20.
Lingle said that Pendleton's experience in government, the private sector and her leadership in the community will benefit the Executive Office on Aging.
Pendleton received her masters of business administration from California State University and was a reverse mortgage expert, executive assistant to the director of Pacific Air Forces, a substitute teacher and a member of the Kaelepulu Elementary School Parent Teacher Student Association.
Crews repair burst water main
Board of Water Supply crews repaired a 24-inch water main leak along Farrington Highway yesterday morning.
Leeward residents from Honokai Hale to Makaha were urged to limit water to essential uses until today.
The leak was reported at 11:45 a.m. Friday. No residents lost water service.
Pupukea park restrooms repaired
The city's Department of Parks and Recreation is finishing up a makeover of the Pupukea Beach Park comfort station at Shark's Cove.
The makeover includes repairing and replacing plumbing fixtures, painting, application of a sealant to make the facility easier to clean, and other minor repairs. Skylights will also be installed at the end of the month.
This makeover is part of the Department of Parks and Recreation's just-in-time maintenance program, where crews work on a designated park or facility. Ala Moana Beach Park, Pokai Bay Beach Park, Maili Beach Park and Waimanalo Beach Park have also had similar work done. The next scheduled comfort station makeover is at Queen's Surf in Waikiki starting tomorrow.
Job training in Hawaiian health offered
A culturally integrated program to help Native Hawaiian students achieve health careers and address the state's need for health care workers will begin July 30 at Windward Community College.
The program is supported with a $150,000 award from the Office of Hawaiian Affairs to the Options in Health Careers Program.
The program will offer entry-level health career training, including a curriculum combining traditional healing approaches and basic health science experiences in a Certified Nurse's Aide course.
Grants are available to help Hawaiian students cover the cost of supplies, transportation and child care, the release said.
People interested in working with the program or enrolling may call Jamie Boyd at 235-7384 or e-mail jamie.boyd@hawaii.edu. To register, call ETC counselor April Sadobal at 386-5886.
| | |
| --- | --- |
| | Police, Fire, Courts |
---
NORTH SHORE
4th suspect arrested in man's stabbing
Police have arrested a fourth person in connection with the attempted murder of a man found beaten and stabbed in Waialua.
A 36-year-old Wahiawa man was arrested Friday on North Cane Street in connection with the attempted second-degree murder case.
On June 22, a 32-year-old man was found in the bushes in an undeveloped area on Cane Haul Road after being severely beaten and stabbed. A good Samaritan made the discovery and drove the victim to the Waialua fire station.
Thomas Lee Manijo, 45, was charged in the case last week. Police also arrested a 48-year-old man and 32-year-old woman in connection with the case, but both were questioned and released.
HONOLULU
Trash blaze closes highway onramp
Firefighters extinguished a rubbish fire yesterday that forced the temporary closure of an H-1 freeway onramp because of smoke.
"Apparently the homeless people were cooking (with) propane burners," said Honolulu Fire Department Capt. Robert Main.
The fire started about 4 p.m. under the H-1 viaduct near Middle Street and was brought under control about 40 minutes later. The onramp in the westbound direction was closed during the fire. A tanker, ladder, battalion chief and three engines fought the fire.
NEIGHBOR ISLANDS
Big Island fire extinguished
Big Island firefighters extinguished Friday a 10-acre brush fire that threatened luxury homes in North Kohala.
The fire burned an area near two homes on Puakea Bay Ranch, a private residential community of luxury homes surrounded by large lawns and grazing livestock, a fire department news release said.
About 20 firefighters and two helicopters fought the fire in 30 to 40 mph winds. The fire started about 12:20 p.m. and was extinguished at 4 p.m. About $4,000 worth of property was damaged.
Investigators said dry vegetation ignited by a tractor mower's exhaust was a possible cause.
Huge compost pile bursts into flame
A compost pile fire in Kauai yesterday probably started by spontaneous combustion, a county news release said.
The large compost pile, roughly the area of a football field and 12 feet high, ignited about 2:15 p.m. behind Kauai Nursery and Landscaping in Puhi.
About 14 firefighters from Kalaheo, Koloa and Lihue helped fight the fire.
Nursery workers assisted with heavy machinery to break up the compost while firefighters hosed the compost down, Battalion Chief Theodore Williams said in the release.
The fire was brought under control about 3:30 p.m.
LEEWARD OAHU
Cashier allegedly stole credit card
A 25-year-old woman was arrested after she was caught allegedly stealing a credit card while working as a cashier.
At about 2 p.m. on Wednesday, the suspect was working as a cashier in a Pearl City retail store. A female customer later realized she didn't have her credit card after making a purchase, and contacted the store.
Video surveillance revealed that the suspect allegedly taking the card. Police said the suspect admitted to the theft, and she was arrested on suspicion of credit card theft and unauthorized possession of confidential personal information.