Coco Palms: A fantasy come true
A new book tells how a Kauai hotel became a star in its own right
STORY SUMMARY »
Kauai of the 1950s was too small for a young man with big ambitions, so after graduating from high school, David P. Penhallow joined the Army, just before his love of drama led him to pursue a career in theater and film.
"The Story of the Coco Palms Hotel:
The Grace Buscher Guslander Years 1953-1985"
by David P. Penhallow

(Rice Street Press)

Hardcover, 370 pages

$29.95
By 1958 he was in New York working at what he calls "the highest-paying job" in theater: cleaning playhouse urinals.
He didn't realize, though, that he had already been smitten by the idea of paradise right in his back yard.
In 1953 he met Grace Buscher, the 43-year-old neophyte manager of the Coco Palms Hotel. Penhallow was in need of a part-time job, and the hotel needed a waiter. He became one of the worst waiters he had ever seen, but Buscher saw potential in him and, during a Christmas vacation at home from New York in 1959, invited him to learn by her side to become a hotel manager.
By then he had finally landed a role in the musical "The Boy Friend," on the Great White Way, but decided to return home.
And what do you know? Hollywood eventually did come calling on Kauai, due in part to the exotic allure of the Coco Palms Hotel. For guests who stayed there, dreamers from afar and those who worked on the premises, it was, in many ways, a fantasy come true. The hotel was largely the invention of one woman but matched any spectacle Hollywood scriptwriters could have imagined, and Penhallow has penned its story.
FULL STORY »
IN 1952 the widowed Veda Hills was struggling to keep the little 24-room hotel she and her late husband, Alfred, had been running in the midst of a coconut grove near the banks of Kauai's Wailua River.
Unable to fill its rooms and in desperation, she leased the property to a Chinese hui that couldn't fill the rooms, either.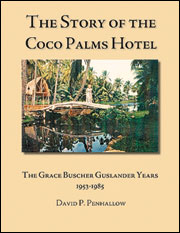 Enter Gus Guslander, an entrepreneur who had worked at the Moana Hotel and dreamed of creating his own hotel empire. Noticing that Veda Hills' Coco Palms Lodge was up for sale, he made a deal to lease the property, putting his friend Henry Buscher's sister Grace in charge.
According to David P. Penhallow, author of "The Story of the Coco Palms Hotel: The Grace Buscher Guslander Years 1953-1985," the result was nothing less than magical.
Penhallow, author of "After the Ball" and "The Betrayers," started writing the Coco Palms story, his first nonfiction work, about four years ago as an aloha to the dynamic Guslanders, who married in Las Vegas in 1969. Gus died in 1984 at the age of 69, and Grace died in 2000 at 76.
"I wanted to document a time in Hawaii, on Kauai, that will never happen again," Penhallow said by phone from his home in Lihue. "The Coco Palms was the Camelot of Kauai. We need to look back so we can remember these people and treasure those things that make Hawaii special. We forget so easily. All we concentrate on today is Paris Hilton. Kids ask me now, 'Who was Bob Hope? Was he a World War II pilot?'
"I only wish I knew, while (Grace) was alive, that I would be writing this book. I would have asked her a lot more questions."
Even so, the book's 370 pages have the thoroughness that could only have come from being there while history was being made. Plentiful black-and-white and color photos and stories that unfold in yearbook fashion also help to bring the Coco Palms story to life.
Penhallow managed the property for two years before Gus made him manager of his Hanalei Plantation Hotel in 1961. Penhallow would later teach at Kamehameha Schools and Kauai High School and serve as director of the Kauai Museum, but always retained his connection with the Guslanders.
"I was at Grace's side when she died," Penhallow said. "I was fortunate to be able to interview people who were former employees and guests of the Coco Palms, and celebrities who stayed there.
"I hate to say it, but we're all getting older and many more people have died since I finished the book."
GRACE BUSCHER was an unlikely choice to manage the Coco Palms. Being a woman in the 1950s was just one of many strikes against her.
"She was 43 years old, she had no hotel experience, she was haole, from the mainland, but it was Gus' genius to put her in charge," said Penhallow. "Not many men at that time would put a woman in that position.
"Her brother brought her to Hawaii to baby-sit (his first child). She was staying in Kahala, which at the time was not all mansions, but beach houses. She saw the hospitality of Hawaiian families, saw them beach fishing at night. I think what (Gus) saw in her was a love of Hawaiian people and their culture, and she exuded charm. And as for what he had, he could promote and raise money."
Grace set five goals for her first year at Coco Palms. Among them were to become known for hospitality, cleanliness and for serving the finest meals on Kauai, and to recapture the days when Queen Deborah Kapule called the property home.
Her only failing was to stop the sugar cane trains from their nightly mill runs, which, according to Penhallow, "shook the property to its foundations," scaring guests who thought they were experiencing an earthquake. But it was not for a lack of trying. One night in 1954, Grace had had it with guest complaints about the train, so she took a chair, plopped it onto the tracks and sat down. She wouldn't budge when the train came, and after a lengthy standoff, two policemen picked her up in the chair and carried her off.
If she couldn't stop the trains, she could still do her best to capture a Hawaiian sense of place, long before tourism marketers coined the words for such concepts.
"What she created was a fantasy that people came to Hawaii from all over the world to see," and when Hollywood came to film on the property lined with thatched-roof pavilions, Hawaii's image as an island paradise was set through films such as "South Pacific" and Elvis Presley's "Blue Hawaii."
BY TODAY'S standards the world that Grace created might be considered kitschy, but Penhallow saw her earnestness in bringing back aspects of old Hawaiian culture, hospitality and sense of stewardship of the land that became a template other hoteliers would follow.
"I think she was uniquely born with that sensibility. When she came out here, she listened to people, she met with Hawaiians, listened to their stories. When she found out Queen Deborah Kapule lived here, she wanted to resurrect her memory. She celebrated the queen's birthday every year. She created the evening torch-lighting ceremony, and there was no food or liquor served while the program's narration was taking place. Henry Kaiser copied her when he opened the Hilton Hawaiian Village. A lot of people copied her.
"She embraced the idea of replenishment and started the tradition of inviting celebrities to plant coconut trees."
Among the more than 127 people who planted trees were Webley Edwards, who launched the radio program "Hawaii Calls," renowned dancer Iolani Luahine, San Francisco Examiner columnist Herb Caen, the Shah of Iran, Arthur Godfrey, Prince and Princess Hitachi of Japan, Duke Kahanamoku, Liberace, Gene Autry and James A. Michener.
Penhallow said he remembers being captivated by everything that happened on the premises.
"I don't think I took it for granted. Like everyone else, I was in awe of (Grace). In many ways she was like a magician, and what she created will never happen again."
The Guslanders sold their Island Holidays chain of seven hotels, including the Coco Palms, to Amfac in 1969, but continued to manage the property. Following Gus' death, Grace retired in 1985. Seven months later, Amfac sold the hotel to Wailua Associates. In 1992, Hurricane Iniki devastated the property, which remains closed today.
Penhallow notes in his book, "Grace watched her beloved Coco Palms buildings slowly rotting away as she drove by the hotel in her car. There was talk that the hotel rooms were leaking, covered in green mildew, and were disintegrating because of wood rot. Large rats had moved into the rooms in place of guests."
He sighed, "I wish something were happening at the property."
Asked if he believes the Coco Palms could be resurrected, he said, "I don't know, because I'm old and maybe people today want something glitzy.
"The Coco Palms wasn't like that. It was very tropical, with lau hala walls, seashell basins and lamps made of coconuts, stuff like that. But, I think if somebody did something like it today, they'd be very successful. I'd take the chance. It would be fun to see somebody try it.
"Coco Palms was a very special place. You would have liked it."
---
The book can be found at Borders, Borders Express, Barnes & Noble and Bestsellers Hawaii. Outside Hawaii,
www.booklineshawaii.com
.