| | |
| --- | --- |
| | Newswatch |
---
Pilgrims pay respects to isle soldier
Steven Goins traveled 20 miles from his Tennessee home to pay his respects to a fallen Hawaii-based soldier he did not know.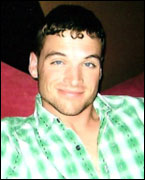 He joined a legion of other supporters from Tennessee, Alabama and Kentucky as part of an informal Independence Day pilgrimage to honor the 25th Infantry Division soldier from Schofield Barracks.
They came July Fourth to the small town of Woodbury, Tenn., to mourn Lt. Frank Walkup IV, a member of the Hawaii-based 2nd Battalion, 3rd Brigade Combat Team.
Some of them had also lost loved ones in Iraq and wanted the Walkup family to feel embraced. Others were Vietnam vets with a "never again" credo against faltering in support for those who serve.
No death penalty in golf killings
The U.S. attorney general has declined to seek the death penalty in the Pali Golf Course shootings.
In a June 29 letter, U.S. Attorney Ed Kubo notified U.S. District Judge Susan Mollway of the attorney general's decision. The U.S. Attorney's Office had been awaiting a decision since giving oral arguments in Washington in April.
Two men were killed and another wounded in the Jan. 4, 2004, gunfire at the golf course that Honolulu police say stemmed from gambling turf wars.
Killed were Lepo Taliese, 44, and Lawrence Corpuz, 40, aka Romilius Corpuz. Corpuz's brother, Tino Sao, 42, survived.
Rodney Joseph Jr., Ethan Motta and Kevin Gonsalves were charged with second-degree murder in state court, but that trial has been in limbo since the federal indictment was brought.
They face charges of assault with a dangerous weapon, attempted murder and two counts of murder.
They are also named as defendants in a federal racketeering case along with Kai Ming Wang, Siaosi Alapati and Raymond Jones Jr. All six are accused of conspiring to commit racketeering and extorting owners of rival game rooms.
The federal trial is expected to begin the week of Sept. 18.
Panel to ponder energy options
The state Public Utilities Commission will study ways state and local governments might buy electricity directly from renewable energy sources rather than an electric utility, Gov. Linda Lingle announced yesterday.
The electricity would be transmitted from generator to user via an electric utility's transmission lines in a process called "wheeling," the governor's announcement said.
"Renewable energy has to be an important component of our state's energy supply in order to reduce our dependence on imported fossil fuels," Lingle said.
Hawaii's electric utilities rely on fossil fuels for more than 90 percent of their generating capacity.
By seeking direct purchases, the state can help increase Hawaii's energy independence and stimulate demand for solar, wind, geothermal, biofuel, wave and ocean energy, Lingle's release said.
Since state government is the second-largest purchaser of electricity in Hawaii (behind the Department of Defense), Lingle said, "We'd like to see how the state's purchasing power can not only accelerate the use of renewable energy, but also help to reduce or stabilize energy costs."
Among the issues the commission will have to decide in its Docket 2007-0176 is the feasibility of this practice and whether special tariffs must be created.
Repairs to close Ala Moana lanes
The Department of Transportation is scheduled to close one or two lanes in either direction on Ala Moana Boulevard between Punchbowl Street and Ward Avenue from 8 p.m. tomorrow to 5 a.m. Friday.
The lanes will be closed for the installation of street lights, a new drainage system and traffic signal conduits.
The department also warns of 24-hour lane closures on Ala Moana Boulevard between Piikoi Street and Ward Avenue in the westbound direction until 5 a.m. Monday.
One to two rightmost lanes will be closed for construction of concrete bus pads, curbs and gutters.
Wall work to shut H-1 onramp
The School Street onramp into the westbound lanes of the H-1 freeway will be closed this weekend and next weekend for construction work during the day, said the state Department of Transportation.
Crews will shut down the School Street onramp from 7:30 a.m. to 4 p.m. starting today as part of preparation work to eventually replace the freeway retaining wall.
The H-1 westbound right lane from the Pali Highway offramp to the School Street onramp and the left lane along School Street between Aala Street and Kapua Lane will also be closed those weekends as part of the construction work.
The Transportation Department advises drivers to take an alternate route and add extra travel time to their commute.
| | |
| --- | --- |
| | Police, Fire, Courts |
---
HONOLULU
Burglar punches officer, escapes
Police are seeking the public's help to find a man who punched a police officer Thursday during a burglary in Moanalua Gardens.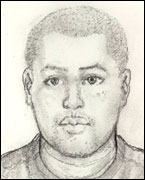 A police officer was investigating a burglary on Ala Amoamo Street at about 7:45 a.m. A 77-year-old woman who lives on the same street told the officer that a man was in her house and had told her that he was a police officer, said police Sgt. Kim Buffett.
When the officer entered the woman's house, the suspect rushed and punched the officer, lacerating the officer's lip, she said.
A chase ensued, and the suspect escaped by scaling a barbed-wire fence around the Fort Shafter Golf Course. He sustained injuries and tore his shirt on the fence, Buffett said.
Police described the suspect as in his 30s, about 5 feet 10 inches tall, with brown hair worn in a crewcut. He was wearing a navy-blue Hawaiian Style-brand T-shirt and blue surf shorts.
Anyone with information on the incident should call CrimeStoppers at 955-8300 or *CRIME from a cellular phone.
Probation violator is sought in abuse
Police want help in finding a 31-year-old man who was recently released from prison and is wanted for violating probation and allegedly abusing a household member.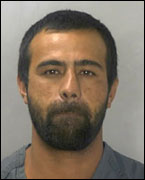 Clifford T. Cunningham is wanted on a warrant for felony abuse of a household member, police said.
His ex-girlfriend has taken out a temporary restraining order against him.
Cunningham is considered violent and dangerous.
He is described as 5 feet 10 inches tall, 168 pounds, with brown hair and brown eyes.
Anyone with information on Cunningham is asked to call CrimeStoppers at 955-8300 or *CRIME on a cell phone.
WEST OAHU
Police seek robber of Waimalu bank
Police are looking for a man in his 20s who robbed Central Pacific Bank's Waimalu Branch on Thursday.
The man entered the bank, at 98-1247 Kaahumanu St., with a demand note, gave it to the teller at about 3:30 p.m. and fled on foot with an undisclosed amount of cash, said Honolulu police Sgt. Kim Buffett.
He wore a black matted wig, gold sunglasses, a gray long-sleeve T-shirt and blue jeans.
Police described the suspect as in his 20s, 5 feet 8 inches to 5 feet 10 inches tall, and weighing about 140 to 160 pounds.
It was the fourth bank robbery on Oahu this year compared with 30 in all of last year, Buffett said.
Anyone with information should call CrimeStoppers at 955-8300 or *CRIME from a cellular phone.