---
FAST FACTS HAWAII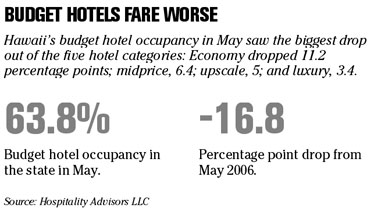 ---
HAWAII
July 15 services for Paul Loo
A memorial service will be held July 15 for philanthropist and former
Morgan Stanley
Executive Director Paul C.T. Loo, who died June 24 while on vacation in Scotland.
Loo, 75, who retired in April from the investment firm, also was a founding director of Hawaii Pacific University and a regent at Chaminade University. He and his wife, Violet, donated millions of dollars to educational institutions and the performing arts.
The service will be held at 4 p.m. at Saint Andrew's Cathedral, with a reception to follow. No flowers are requested. Donations may be made to Hawaii Pacific University, Chaminade University, St. Clement's Episcopal Church and The Contemporary Museum.
Besides his wife, Violet, Loo is survived by his children, Rodney Loo of San Francisco and Pamela Loo Mayer of Los Angeles, and his grandchildren, Kalei Mayer, Alana Mayer, Adam Loo, Kendra Loo and Violet Loo.
Ho retires from Rehab post
Stuart T.K. Ho, whose father Chinn was among an investors group that owned the Honolulu Star-Bulletin in the 1960s, has retired as president and chief executive of the
Rehabilitation Hospital of the Pacific
.
Dr. Fujio Matsuda will serve as interim president and CEO until a permanent replacement is appointed. Matsuda was president of the University of Hawaii from 1974 to 1984 and also served as executive director for the University of Hawaii Research Corp. and as president of the Japan-America Institute of Management Sciences.
Ho was president and CEO of Rehabilitation Hospital since June 1, 2002.
WORLD
India, this Bud's for you
MUMBAI, India » Anheuser-Busch, the world's largest brewer, introduced an Indian-brewed Budweiser yesterday as part of the company's plan to tap into the country's booming economy, a top official said.
While India is one of the world's largest markets for spirits, it ranks near the bottom among beer guzzling nations.
But Anheuser-Busch Cos. Inc. sees great potential in the country.
"India has strong and consistent economic growth," said Stephen J. Burrows, chief executive of Anheuser-Busch Asia-Pacific operations. "It represents a major entry point for Anheuser-Busch."
Budweiser will initially be on sale only in southern and western India.
India's beer industry posted 20 percent annual growth for the past two years, up from 10 percent per year over the past decade. The growth has been fueled by India's growing middle class and its huge population of young people.
---
BUSINESS PULSE