BEFORE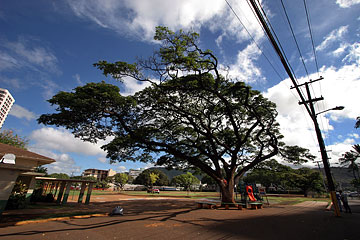 School loses roots as beloved tree falls
Kuhio School's 90-year-old monkeypod is cut down after a fire damages its integrity
As the saws cut into the stately but rotted monkeypod tree yesterday, it was like watching the death of an old friend, said Evelyn Hao, principal of Kuhio School.
By yesterday afternoon the trunk had been reduced to a stump some 4 feet in diameter. An arborist's report said in April that the tree was infested with insects from where a fire burned it and that it could fall on children at any time, she said.
Loren Johnson, owner of All Paradise Tree Service, said that about a third of the tree was dead.
AFTER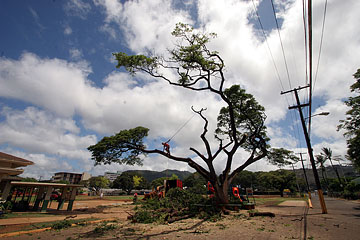 "What else can I say? ... Now it's gone, and I'm going to grieve a little and then go on. Part of the healing process will be to get some mementos of it," said Hao, who requested a slab of the trunk for a plaque and several stumps for children to sit on.
In her 12 years as principal, Hao appreciated the tree's "beautiful round canopy" that "gave us shade, cleaner air and beauty. ... I just love(d) this," she said. Old-timers from the community also came after school to enjoy the shade, and a few dropped by to take one last look.
Lori Takahata, a counselor's aide for seven years, attended Kuhio School in the 1970s. When the announcement of the tree's demise was first made at an assembly, "I heard a lot of moans from the kids," she added.
"It gave us a lot of comfort and security. I always thought of it as a giant umbrella. We used to play tag, sit under it with friends ... play jacks, jump rope. It was a peaceful, cozy comfortable area," she said.
Hao said on the last day of school, more than 300 faculty and students lined up under the tree for a photograph. Hopefully, she can get the state Department of Education to replace the tree with another mature one "so we don't have to wait another 90 years for shade."
Kaimuki artist Kazu Fukuda also sadly watched the tree being dismembered; he was the only artist who took up Hao's invitation to come and get woodworking material.
"I was here (this morning) when they made the first cut. As soon as the chain saw started, it struck a nerve like being at the dentist office," he said.
Fukuda taught art at Kuhio for two years after he sculpted, in 1998, a stone dragon partially beneath a smaller nearby tree that also has to be removed.